From Canton Custom Guitars comes the Mini Gordo Midi Guitar – a custom design for Stephen Barry. Performing much of his live and studio work with the Roland VG-99 V-Guitar Multi Effects Processor System and Roland GR-33 Guitar Synth, Stephen was looking for something different.
According to guitar maker Rick Canton,
Stephen's intention for this guitar was to have an elegant, sleek guitar while being simple yet powerful. He also wanted a travel friendly guitar due to his traveling schedule so this new model fit perfectly for him. Stephen aptly named it the Mini Gordo.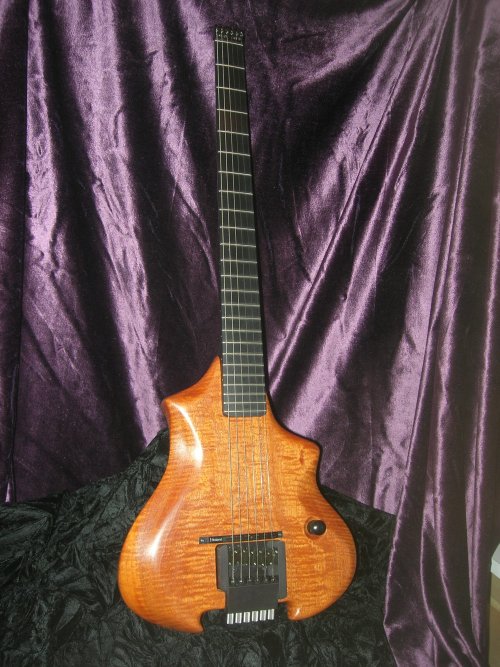 The Mini Gordo specs include:
Roland GK-3 Guitar Pickup Internal Kit
Moses graphite neck
Curly mahogany solid body
Bondy Hardtail Bridge
Purpleheart 13 pin jack plate
And at a mere 4lbs 8oz, this compact instrument is just the thing for protecting your back on those long, late night gigs.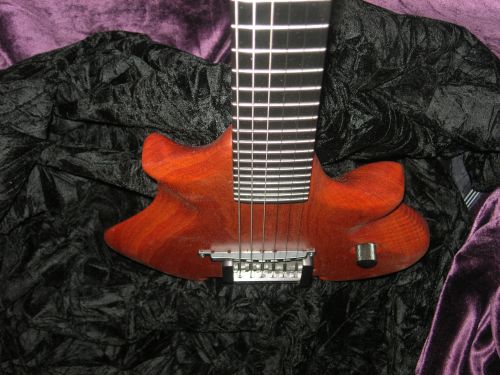 For more, check out the follow up article, Mini Gordo Guitar Revisited as well as the forum post Mini Gordo Midi Guitar in Action where you can listen to an original composition played on the midi instrument.