After playing his Klein guitar replica for a while, Eric Olds found he was no longer happy playing his Les Paul style Fernandez while seated. The comfort just wasn't there so he set out to find an alternative while he worked on the Klein's finish. He settled on the inexpensive Traveler Speedster Travel Electric Guitar he had purchased for trips and decided to mod it into a more ergo instrument.
Eric found that while it had a really nice 24 3/4″ scale neck, the single pickup was somewhat limiting though still usable. He notes:
I immediately started modifying it – first I put a switch for coil tapping. Then I made a custom jack housing. But it was never all that comfortable to play sitting down. So after my Klein experience, I constructed a fold-out leg support and then a new bolt-on arm rest.
Although the Speedster Travel Guitar comes with an arm rest, it's rather small so Eric came up with the larger replacement seen to the left of the factory arm rest.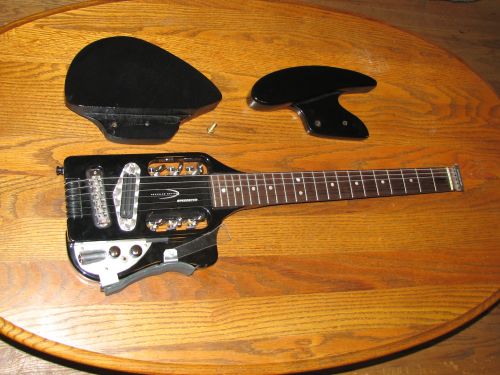 And here it is with its leg support deployed:
For you experimenters out there, Eric suggests that…
this approach might be a good one for people to inexpensively try out ergonomic ideas, as the Speedster, even new, isn't all that expensive and the modifications are much easier than constructing a whole instrument.
You could take a similar approach with a Hohner G3T Headless Guitar – the licensed copy of the original Steinberger broom electric guitar.
That reminds me. I have the two pick up version, the Hohner G2T, laying around here somewhere…