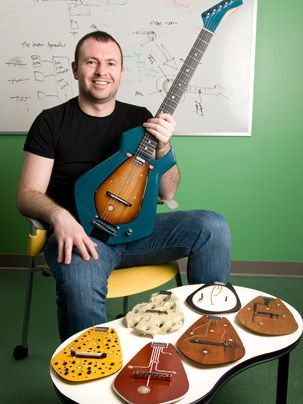 MIT may be an unlikely source for stringed instrument design and innovation but that's not stopping Media Lab student Amit Zoran. He's been working on a new approach to guitar in collaboration with instrument builder Marco Coppiardi.
Many current attempts at redefining the guitar focus on the use of modern electronics. And while the Chameleon Guitar doesn't shun this approach, it starts with analog roots. It begins with wood – that magical material at the heart of our most beloved instruments.
Interchangeable soundboards contain piezo pickups which provide an acoustic source for sound modeling. Various woods and bracing techniques have been tested and fed to the modeling engine which can also model guitars of various sizes and shapes.
With this level of diversity, Amit sees the Chameleon Guitar as a tool for the professional musician. Rather than depending on multitude of instruments, the recording or gigging player would have an array of sounds at his or her disposal simply by changing sound boards built from different tone woods. Still a thesis project, Amit is working toward a commercial model down the road.
Overall, its an interesting idea with possible applications in bass and other electric stringed instruments. But it remains to be seen whether this latest attempt at redefining the future of guitar will take off.