The original Padilla bass design was the result of a collaborative effort between builder Jerome Little of Little Guitar Works and bassist Xavier Padilla. Developed over the course of 6-8 months, the bass was designed to help alleviate Padilla's battle with deQuervain's Tenosynovitis – a form of tendinitis and Repetitive Strain Injury (RSI).
This particular Padilla style bass retains the original's focus while taking a more streamlined approach to construction. For example, Jerome Little redesigned the headstock for regularly mounted tuners (vertical string posts instead of the original horizontal posts) while retaining the original open center headstock. The bridge is now surface mounted compared to the original's arrangement. The full length thumb rest is gone. But the resulting bass is no less unique.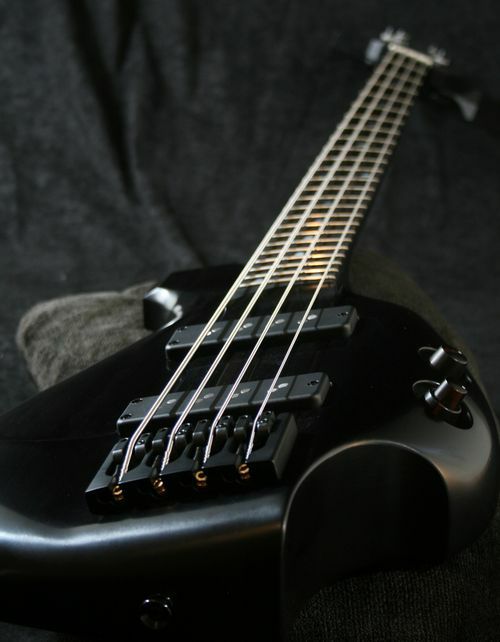 A number of elements contribute to ergonomics. At 7.5 lbs, it's not only lighter than most basses but most guitars. A cutaway in the body allows it to be played in classical position. But the big standout is the Torzal neck which reduces wrist flexion (bending) through its -20 degree twist at the nut and +15 degree twist at the bridge. The result is a reduction in stress and strain on the tendons and nerves that pass through the already tight passages in the wrist.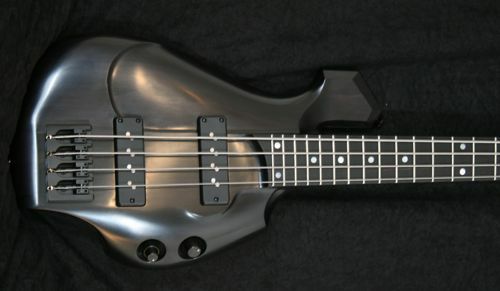 To see how the original Padilla bass in action, check out this Xavier Padilla solo from a Gipsy Kings performance.
For an in depth look at the Torzal neck's features and advantages, tune into this Bass Guitar Magazine Review.
Specs
Body:
Swamp ash body
Cutaway for playing in classical position
Bridge angled up 15 degrees to reduce the player's wrist bend
7.5 lbs
Neck:
Torzal Neck with 35 degrees of total twist – -20 at the nut, +15 at the bridge
34″ scale
5 piece construction – includes the accent veneers in the center
Ebony fingerboard
Ebony veneers on the body portion of the neck and front and back of headstock
Electronics:
Aguilar OBP-2 onboard preamp for active treble and bass control using the stacked knobs
Volume Knob pulls out to activate the preamp and pushes in for passive mode