Headless guitars lend themselves to ergonomic design through their potential to improve instrument balance and centralize weight closer to the guitarist's body where it is more easily carried. Unfortunately, headless guitar parts are limited in choice, tend to be expensive and even hard to source. (Read more about some options at Headless Guitar Resources.)
For example, I purchased a Musicyo Steinberger in order to obtain the neck, headpiece and bridge necessary for guitar build #1. Because of these issues, I've been seeking out examples of headless guitar design alternatives that might provide interesting approaches. See the Related Posts section at the end of this post for more.
Like the TK Instruments guitar seen previously in Alternative Headless Guitar Design – TK Instruments, Scott French's design moves the tuners down by the bridge and the ball ends of the strings are retained where the headstock would normally be. This general approach uses conventional strings and opens up the opportunity to use a wider variety of necks and bridges.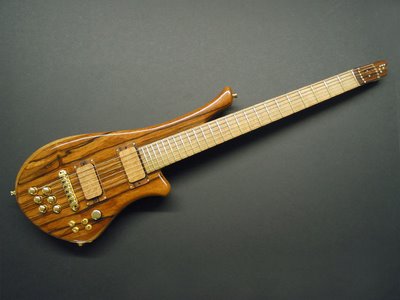 Scott French's SF3 Travel Guitar adds an additional detail to the solution by retaining the strings with a through-the-"headstock" design as seen here: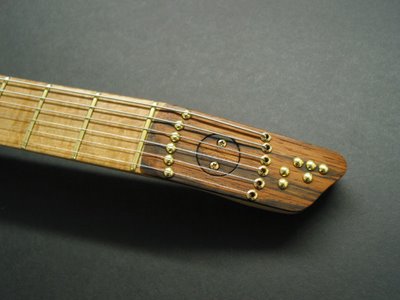 This string retention solution, although a bit more involved to implement than a locking nut, has the advantage of quick string changes without the need for tools. Feed the string through the ferrules and pass the end down to the Steinberger tuners that pass through the guitar body. The solution is both simple and elegant.
This general approach is one to keep in mind for a future guitar build. For more on the design, visit the SF3 Travel Guitar at Scott's site.