Vance Galloway appreciates innovative stringed instruments. In fact, he's had builder Aaron Andrews of Andrews Guitars make him three instruments "designed to be more ergonomic than standard guitars and basses and focused on playability while sitting". The most recent of the three is a Limba bodied headless baritone guitar.
Making the Guitar Body
Made of black limba with a beautiful quilted maple top, Vance describes the body as "somewhere between a Klein guitar on top and a 'sitting friendly' design that Aaron and I came up with for our first guitar which worked out VERY VERY well – better than the Klein I used to have, IMHO."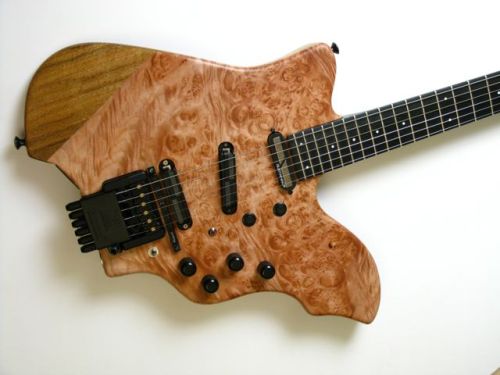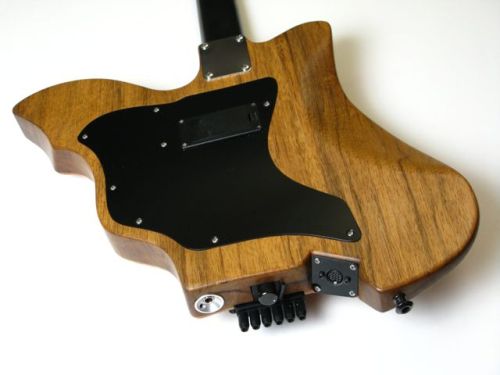 Key to the instrument's seated position is its placement on the left leg instead of the standard right leg position. Vance thinks "the angle of the instrument is absolutely divine while seated this way."
Its builder describes how he came up with the shape:
Basically, Vance wanted the instrument to fit him the way he prefers to sit and the way he stands. I took tape measure cardboard and duct tape as well as life size cut-outs of a Klein and had Vance sit down so that I could fit him. I then did my best to achieve the proper weight, carves and balancing point.
Strat Width Neck Meets Steinberger Trem
The Moses Graphite neck is based on their Baritone Strat replacement neck which means it's as wide as a Strat at the nut. Vance prefers this to the standard headless neck which he describes as "VERY VERY thin at the nut…so much so that I find them nearly unplayable."
A unique feature is its use of both a Moses Headless nut (which accepts double ball end strings and regular strings) AND a Floyd Rose locking mechanism. It's to facilitate a technique of Vance's:
I have developed a technique in which I use the Floyd Rose locking system to attach a metal dowel to the neck of the instrument, which I then bow, creating very eerie and ethereal harmonics which shimmer down the strings and into the pickups. This is a technique I devised while using a 'normal' guitar and wanted to maintain the ability to perform this way with this new instrument.

That said, I can remove the locking pieces from the Floyd nut and it becomes a "normal" nut right away. Tuning stability is excellent on this instrument.
At the other end is the XS-Trem – a remake of the Steinberger S-Trem. Vance describes it as having very smooth travel and finds it effortless compared to a Floyd or Wilkinson bridge.
Sonic Diversity
The choice of electronics is quite unique ranging from a Alumitone pickups in the bridge and middle positions, a Sustainiac in the neck and a Roland GK-3: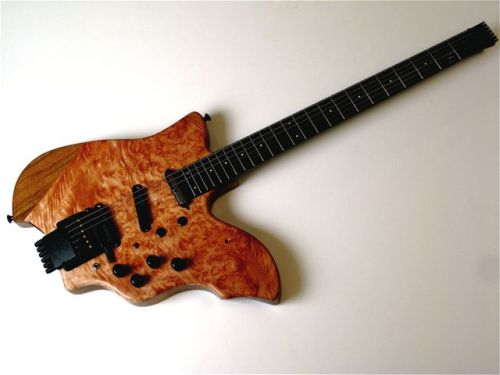 Two of the knobs control the instrument volume and the Sustainiac mode and gain (both are Push/Pull). The other two knobs are a rotary 6 position pickup selection (Neck, Neck-Center, Center, Center-Bridge, Bridge, All) and Roland GK volume. The instrument also features a Roland GK-3 internally mounted. The two switches for the GK-3 (which can be assigned in the VG-99 or other devices to send just about any MIDI command or to select pickups or…well, just about ANYthing) are located very near the strings.

It appears in photos that these would be easy to accidentally bump but many, many experiments have born out my assertion that fingers will pass over these (VERY low profile) buttons while strumming and picking the instrument. Placing the buttons here makes it very easy to access them while playing. I map them to delay triggers on some of the custom plugins that I write, creating an effect where I can quickly tap in a delay repeat pattern (Not just tempo) that matches the song I am playing. Endless fun there. Straplocks keep everything in place.
Finally, while ergonomic instruments aren't his main focus, Aaron Andrews did share this:
I can't say that it is my primary thrust as a luthier but I have and continue to keep my customer's needs foremost in my endeavor, so long as it is within me to serve. That said, I was fascinated with the Klein when I first saw it in Guitar Player magazine when I was too young and too poor to even dream of it. Gotta say though, I did have a love affair with an Ovation Breadwinner!