Rick Canton and guitarist Tim Miller have been collaborating on a new Tim Miller hollowbody electric guitar. The prototype you see here was built as an extended range instrument to allow Tim to explore the expanded range of an extended scale guitar.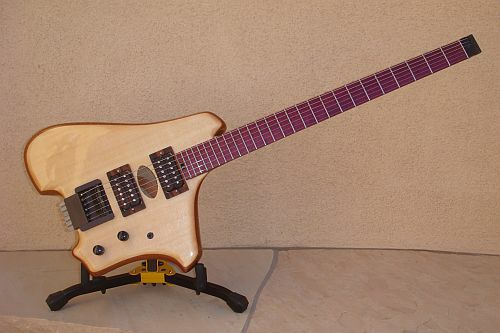 Tim's final guitar will be more "standard" from a scale perspective but its electronics and amplification will be significantly more elaborate. The instrument will include internal mic'ing and piezo elements both inside the body and top of the instrument topped off with a Roland GK3 pick-up – all designed bring out Tim`s studio sound in his live performances.
Rick took this opportunity to take a "green" approach to this prototype when he salvaged the neck from the original Equinox build. It had a chip near the back headpiece area but Rick cut it wider and filled it in with epoxy and purple heart dust.
Specs
Custom Tim Miller Model – 30″ extended scale guitar
Tuned to C or C# with a set of D`Addario .010 – .46`s
6lbs. 14 oz.
Guitar Body
Custom ergonomic hollow body design
Engleman Spruce top – a wood also used for its resonant qualities in piano sounding boards and violins.
Honduras Mahogany core with integrated "S" brace
Curly maple back
Reed James custom wound low output passive A2 pick-ups
Bondy hardtail bridge
2-CTS 250k pots for volume and tone
Single mini 3-way switch (Bridge- Both – Neck
Oval sound hole
Flush mounted strap locks and output jack
Gloss finish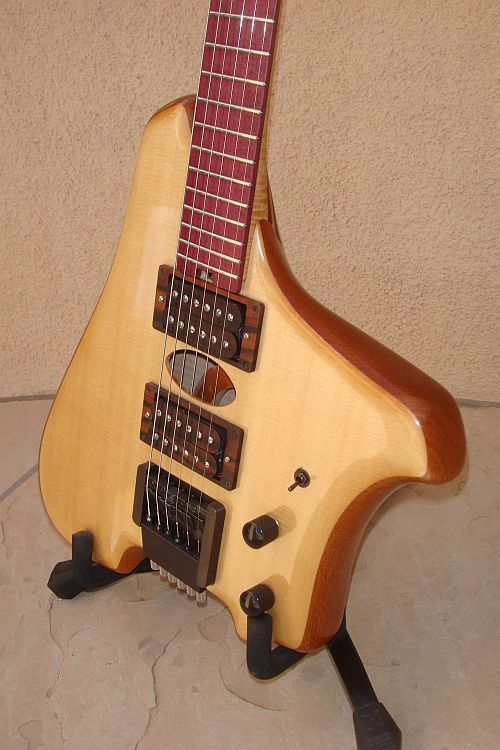 Extended Scale Neck
26 medium frets
Purpleheart fretboard
Curly maple back
Canton extended heel design
Steinberger headpiece & string adapter
2 way truss rod
Mother of Pearl side dots
Oil finish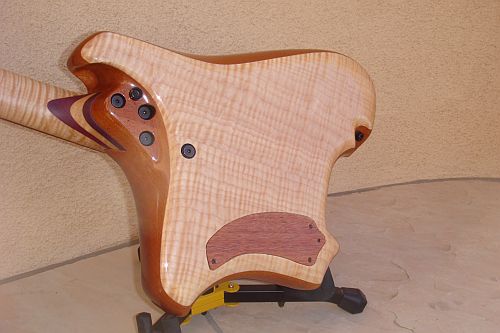 And finally, here's a walk around the guitar – something I'd like to see more custom builders provide.