Based on the previously seen Equinox electric guitar, Rick Canton follows up with this fretless guitar version incorporating a number of its own interesting features.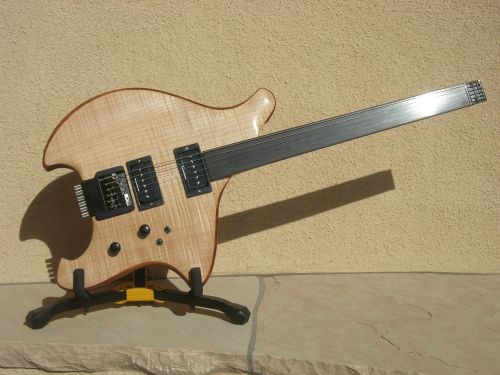 Bamboo Guitar Neck
Inspired by a fellow player's fretless baritone guitar, guitar and sarod player Mustafa Stefan Dill had the laminated neck made from compressed bamboo – an eco-friendly alternative to more traditional woods. (See the guitar forum thread Building Guitars with Sustainable Woods for a couple of examples of electric and acoustic guitars with bamboo bodies.)
The fretless fingerboard is 6063 aluminum, sanded to 1500 grit, polished with Simichrome and then hard anodized in black.
A two way truss rod and Steinberger head piece with single ball string adapter complete the neck.
Chambered Guitar Body
The ribbon sapele chambered guitar body is matched up with a curly maple top – a beautiful combination of woods. While you're looking at the sapele figuring take note of the careful attention given to the heel contour where body and neck come together. Canton also includes another nice little detail by recessing the Straplocks. One of them is visible above the four bolts securing the neck.
Finally, a Bondy hardtail headless bridge takes care of things down below with Seymour Duncan P-Rails handling pickup duties.