Josemi and his friend Joserra build a Klein style electric guitar that mates the body to a 24 3/4″ short scale neck with headstock and conventional bridge and tuners. Let's take a look.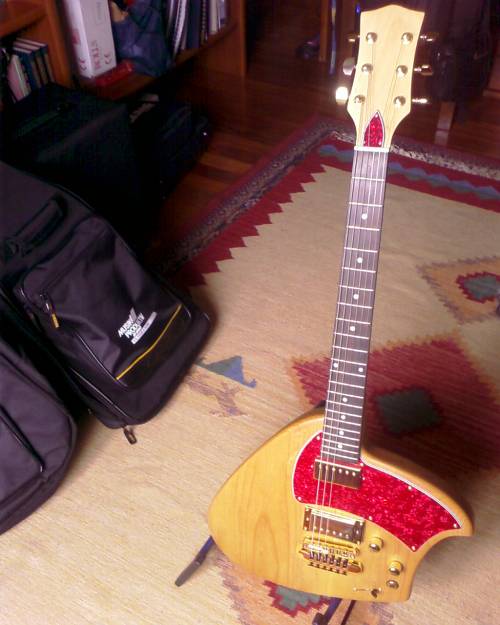 A Short Scale Neck Meets a Klein-style Guitar Body
Using an image of the wider Klein harp guitar as a starting point, the two created a styrofoam template and then removed material from the upper bout until it was "more natural and pleasant" to play with a "straight back and balanced shoulders."
The short scale neck is thinner than a Les Paul's and Josemi states that upper fret "access is easier than in any other guitar i have ever tried." However, he'll be reshaping the heel further to gain even better access to the higher frets. Then he'll finish the neck in a glossy varnish.
Bridge and tuning hardware is handled by a Tune-o-matic bridge, a Schaller Fine-tuning Tailpiece and Wilkinson EZ-Lock tuners.
I was curious how the addition of a headstock would impact the Klein based design and Josemi felt "the instrument's balance is good playing sitting and standing" despite the headstock. He felt the combination of the neck's short scale, heavy hardware and pickups helped offset the headstock.
The resulting guitar weighs 3 kg or 6.6 lb. By comparison an American Standard Strat he owns weighs roughly 3.5 kg or 7.7 lb. Overall its a nice weight savings.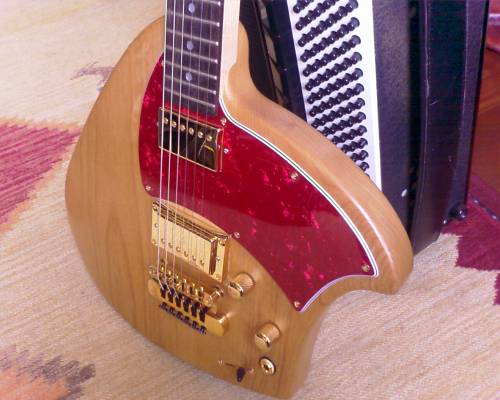 Electronics and Wiring
Josemi used the now discontinued Tonerider Alnico2 vintage spec pickups which he considers "incredible pickups. I have them installed on other guitars, and always get incredible tone and dynamics." These particular pickups have four conductors and are wired with an EYB "type E" switch resulting in the following combinations:
1 – neck humbucker
2-neck single
3- bridge + neck single
4-bridge single
5-bridge humbucker
How does it sound?
Outfitted with a Pyramid nickel .011 string set and intended primarily for jazz, Josemi describes the alder body electric guitar's sound as follows:
"very rounded: no booming bass, very defined mids and silky soft like butter highs. All positions are usable, pleasant and balanced. Position one gives a jazzy horn-like tone that everybody who hears falls in love with instantly.

I'm very very pleased with its feel and tone, very easy to play. I'm so satisfied with it, that I just don't want to play my other guitars (guess they are jealous now ha ha!)
Joserra is also working on another guitar build with a different shape, neck, hardware and pickups. I'm looking forward to it.