Rick Toone has been one busy guitar builder. The Orchid bass is complete, the Headless Monster 5 String Bass Guitar is moving along and now he's also working on the Dove electric guitar – a sculpted design with a number of interesting features.
Hip Hole
Yes that's right – the hip hole is a functional element on the Dove electrical guitar. In his article Hip Hole, Rick points out how many guitars hit the pelvis at the Illiac crest – a spot which is even more pronounced on a woman's anatomy. To accommodate this, Rick created a cavity in the back and then continued it through the front of the body and thus made it an aesthetic feature as well.
Rick also reports an added benefit of the hip hole in that "it's more comfortable for the strum/pluck hand as the hole floats the wristbone while still offering support and guidance."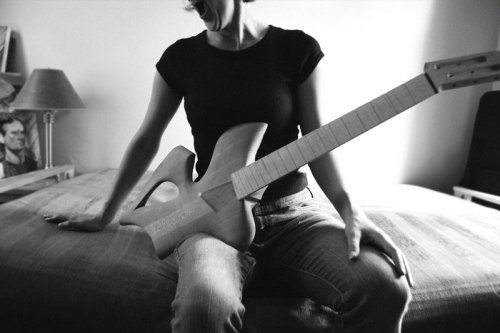 Alumitone Pickups
The Dove is slated to use Alumitone pickups with a single coil in the neck position and a humbucker in the bridge position. These caught my interest a while ago when I heard they are dramatically lighter than conventional pickups. No word yet on how they sound but Rick confirms that they are indeed light weight.
Trapezoidal Guitar Neck
The Dove will be the first guitar to include the trapezoidal profile neck first seen on the Orchid bass. It's an inventive approach and Rick covers the concept in detail in the following articles:
More to Come
Other interesting elements of the Dove include fanned frets and a sustainable approach to materials and finish. More details to come as the Dove evolves.
Creative Commons Attribution-Noncommercial-No Derivative Works 3.0 Unported License