With a completed electric guitar build behind him, Romano Zambon purchased an ABM headless bridge for a future project. Finding little detail available on this bridge system, Romano decided to do some documentation and share both his observations and the plan drawing he drew up.
The ABM Bridge Drawing
Overall, his impression was that the "parts seemed to be pretty good quality, I assume they are Brass, they are non magnetic and I doubt they are stainless. The chrome finish seems to be of good quality." However, it came with no instructions which led him to sit down with a digital caliper and micrometer to arrive at the drawing made available below:
To download the plan, right click on the link and choose to save:
ABM Headless Bridge Drawing – 24 KB
Note: Romano indicated that the drawing was fairly accurate but warned against expecting total accuracy.
Bridge & Tuning Tailpiece
Romano on the bridge and tuner assemblies:
The bridge & tuner seem to only be held down with 2 #6 screws about 1″ long (possibly M4 wood screws). I will most likely use longer stainless screws since they seem a little flimsy.

It appears that they just screw right on top of the body without any routing – certainly makes life easier.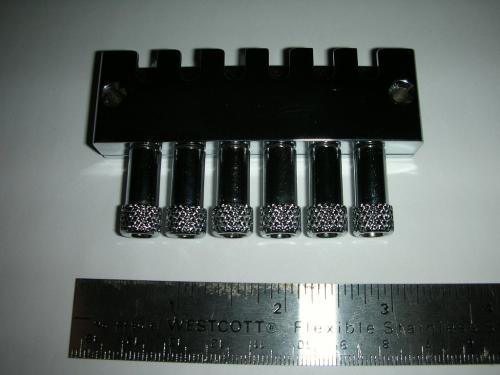 Headpiece
One nice feature Romano documents is the ABM headpiece's support for conventional guitar strings and double ball end strings.
The headpiece is mounted with 2 #8 (or M6) wood screws. There is an individual allen screw for each string so double ball end strings are NOT required.

Using this headpiece would still require you to use a nut or zero fret. If you wanted to use the head piece with an off the shelf neck it may be a little tricky but not impossible. An alternative may be to use a Floyd Rose style locking nut with a mini headstock. It would certainly be easier to fabricate.
Note: See the Redwood Top Forshage Guitar Revisited for an example of the mini headstock and ABM headless bridge system in action.
Wrap-Up
As with the release of Romano Zambon's Electric Guitar Plan, it's his hope that these drawings are helpful to the guitar building community.
Thank you, Romano!