For those willing to give up their whammy bar ways, Jon Bondy's fixed bridge replacement for Trans-Trem, S-Trem and R-trem guitar bridges is worth a look. First covered in Headless Guitar Bridge by Jon Bondy, we now follow up with owner David's excellent feedback on his experiences with this solution on his Klein electric guitar.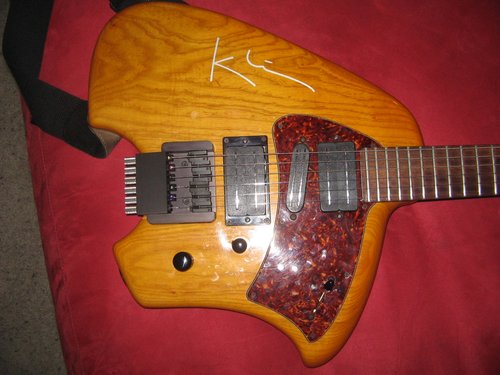 Requirements
With the use of heavy strings, David found that his Klein guitar's Trans-Trem would not float properly and ended up using it as a fixed bridge. This opened up the opportunity for the Trans-Trem to be swapped out with a bridge specifically designed for fixed use.
I was happy to pursue this with Jon because his design would satisfy my most basic requirements. I could get a bridge and a spare, never have to search for Trans-Trem parts ever again, and not have to alter my Klein in any way. That's all I was originally hoping to get out of this.
Fortunately, David found that he got quite a bit more than he expected…
The Bondy Bridge in Use
The bridge is machined from aluminum and David guesses that it's probably about 10 oz lighter – a significant weight savings for those looking to keep instruments as light weight as possible for ergonomic reasons.
But how does it all sound? David discusses his findings:
More surprising, the tone of the bridge far exceeded the tone of the Trans-Trem. Now, I know these things are subjective and others may disagree, I couldn't believe the difference. The bass notes were full and piano-like in their clarity. The treble strings were bright and clear, the range seemed extended but never got harsh. The midrange was full and rich, not a hint of mud anywhere. Acoustically the guitar was much louder, so much so that my non-musician roommates commented on this saying things like, 'wow, that thing is really loud, was it always like that?' Now my Klein has always been a resonant little bugger but not like this. Amplified the same comments apply, only louder. 🙂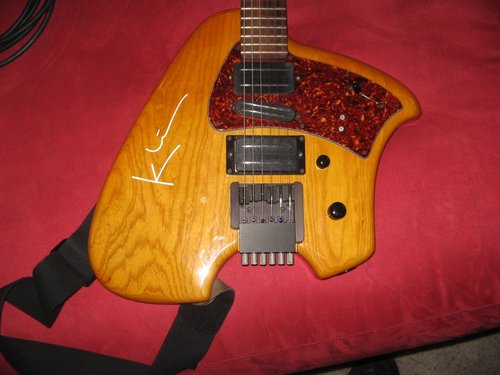 David also commented on the Bondy bridge's tuning stability:
The tuning stability is top notch, it never slips. I thought my TT was stable but again, this is different. Perhaps this is due to my TT having 10 years on it, but still, a nice change. I also found the solid (non brass roller) saddles much easier to intonate.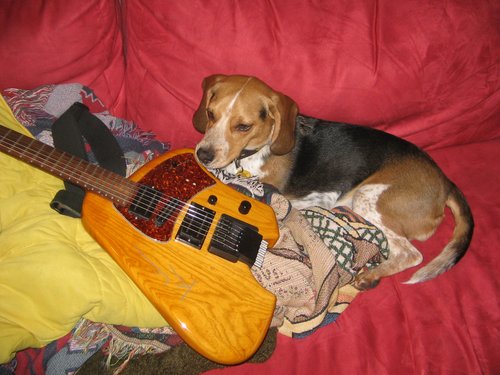 David's final analysis? – " In short, I really love the fixed bridge."
Many thanks to David for his thoughtful feedback and his attack beagle for watching over the Klein-Bondy guitar.