Not long ago I was contacted by musician Santiago Arteaga who has been working for several years on "the design of an ergonomically enhanced bass guitar" – a project that began as his degree thesis in industrial design at the Universidad Nacional in Bogota, Colombia. Now having lived six years in Barcelona, Spain as a musician, Santiago has completed a new prototype five string fretless bass.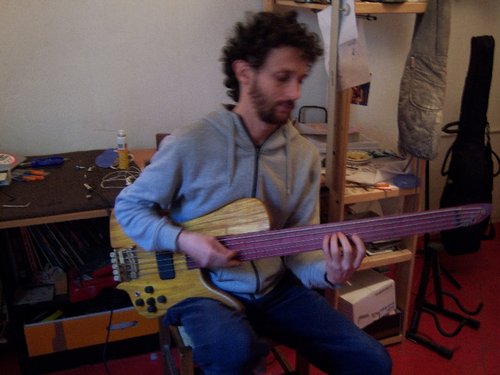 Researching Bass Design
Having convinced his instructors that his idea was a valid thesis project, Santiago struck out not to "revolutionize any concepts about musical instruments" but "rather try to implement enhancements on an already existing product."
The first step was an analysis of the electric bass guitar over the last half century. Much of his research was done over the internet which helped to offset the difficulties of obtaining instruments to examine.
The second step was even more involved and Santiago describes it here…
After that followed anthropometric measurement, in order to justify many of the dimensions of many parts of the instrument, such as string spacing, body size, or nut width; for which a measurement of about 50 people of different ages and both sexes was made of sizes such as finger width, finger length, palm size, arm length, etc…
With measurements behind him, Santiago proceeded to interview bass guitarists…
A series of interviews were made with many bass players from the area, asking them about their playing-related illnesses, their choice of basses, and their opinion about these basses in a series of categories that were selected for them, as well as photographic and video recordings of every one.
Now it was time to pull the research together…
After this was done I had a list of conclusions and possible interventions that could be applied on the project, as well as a set of features that i liked as contributions by makers such as Steinberger, Klein (of course!), and more that i wanted to incorporate. In general the idea was to make the instrument adapt to the player rather than having the player adapt to the instrument (that was something that struck me as i stumbled upon your web site, to find such resonance in the community that you are creating!)
Building the Bass
Fast forward to several months ago when Santiago returned to Colombia for a 1 month trip and began work on prototype bass #2 – the result of working with Bogota luthier Andres Barrera who made the neck according to Santiago's plans while Santiago focused on the bass body. A metal working shop built the bridge and tuners from Santiago's plans.
Upon returning to Barcelona, the bass was assembled and completed within a month. This was back in November so the instrument has been played for three months now.
So what about prototype #1? Unfortunately, it was stolen after having been played for about 2 years. Santiago then focused on playing his G & L bass which also ended up stolen! Fortunately, this inspired him to return to his research and build #2.
Now let's take a closer look…
The Bass Guitar
Starting at the top, the electric bass is not quite a headless guitar with its stub headstock. The design was chosen for "acoustical purposes, as the head mass provides resonance and sustain."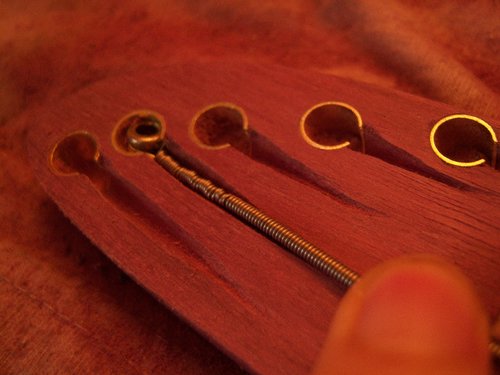 Although hard to make out in the very first image, the full access neck is mounted with a 10 degree downward rotation – a feature that reduces wrist flexion in the fretting hand. We've seen the concern over excessive wrist flexion addressed by luthier Jerome Little. A great example is Xavier Padilla's Torzal Neck Bass Guitar. But unlike the complexity of twisting a neck throughout its length, Santiago's solution is exciting for the ease with which an amateur builder can experiment with it in a design of his or her own.
According to Santiago, "the first prototype had a long horn, in order to provide balance and to bring the nut closer to the body, but in the next, the idea was to 'close the gap' and use the length of the body to embrace the neck and provide additional sustain and stiffness to the neck joint."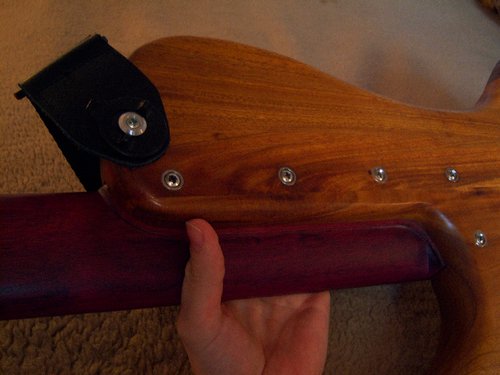 Santiago also designed his own tuning solution – a solid brass five string bridge and tuners system.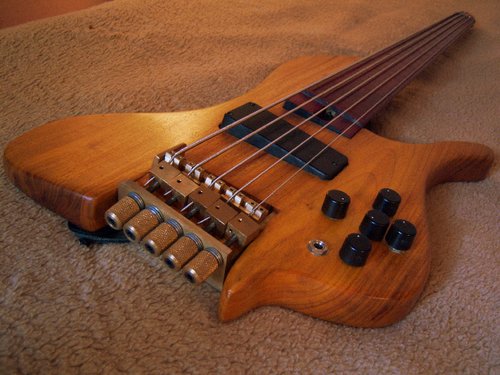 Here's a closer look: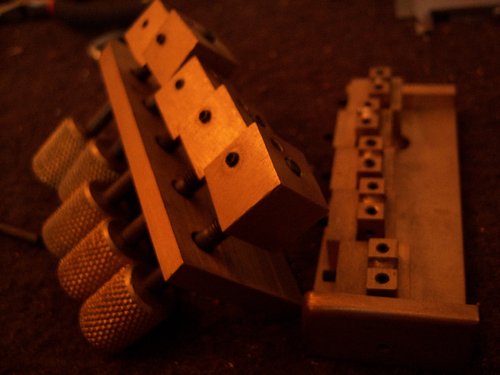 Woods include canarywood for the body and purpleheart for the neck.
Ergonomic Features
Some of its design elements include:
A 10 degree downward rotation of the neck to reduce wrist flexion of the fretting hand
"An exaggerated right arm rest to prevent it from bending the wrist"
A body design that hugs the leg while seated providing greater stability
Clear access to the entire neck (equivalent to 24 frets)
Observations
After playing it for the last several months, Santiago had these observations to share:
So far, in general, I like it a lot. I find that with this bass I can play things that I couldn't play on the G & L especially in the upper register. I also find that I get less tired from carrying the bass around and doing long rehearsals and gigs. Standing up, it balances great but sitting down it's a bit body heavy due to the massive bass bridge. Though I like the sustain that the brass bridge provides, a lighter aluminum prototype will be in the works or perhaps another model with reduced mass.
With such an interesting second bass guitar behind him, I suspect we'll be seeing more of Santiago Arteaga's ideas take shape in future instruments builds. Bien hecho, Santiago!
Many thanks to musician Santiago Arteaga for sharing his vision with Building the Ergonomic Guitar.