With necessity the mother of invention, the difficulty and cost in obtaining headless guitar parts has led to a number of ingenious solutions including those seen in Make Your Own Headless Guitar Tuners! and Henry Olsen's MaSh Acoustic Guitar.
This latest example is a DIY headless guitar tuning system recently seen on this fretless baritone guitar.
Headpiece
The "headpiece" string retainer is ingeniously simple consisting of copper connector lugs and stainless steel set screws from a local electrical supply store.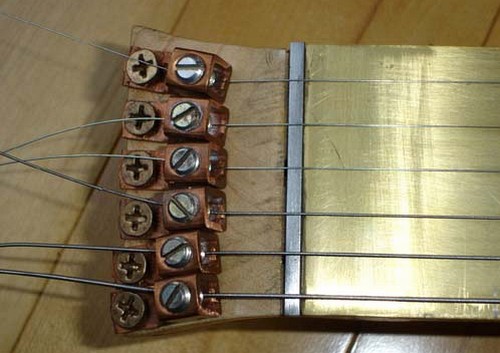 Bridge
The bridge is made up of a 35mm x 3mm x 85mm piece of flat steel with 6-25mm aluminum angle irons to support the strings.
Intonation is set by sliding the grooved angle bracket between the two positioning screws that are fastened to the flat bridge plate.
String height is determined by the depth of the groove on the top of the aluminum angle iron and was accomplished with a feeler gauge to determine string height at the 12th fret.
Tailpiece
Finally, the tail piece consists of a 3mm steel angle iron (19mmx 19mm) with six holes drilled through for the tuning bolts. U channels hold the strings in place and two green plastic washers keep the u channel from rotating with the bolt.
For more on this headless tuning solution and the baritone fretless guitar, see Unfretted.com's Building a Baritone Fretless.