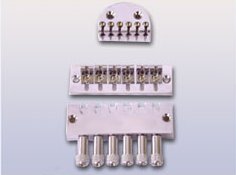 It's confirmed – ABM Mueller, guitar parts maker and maker of headless guitar bridge systems, is back in business!
In a reply from ABM, the company confirmed that it is under new leadership and will complete its move to its new office and factory in Berlin. They were able to retain the expertise of much of the staff and look forward to resuming production March 2008.
ABM will be at the upcoming international tradeshow Frankfurt Musikmesse (March 12-15, 2008) in booth 4.0 D90. If you happen to be strolling by at the time, stop in and welcome ABM back!
Many thanks to David King of David King Bass Guitars for the lead on this story.