Bass guitars have featured prominently as of late and with good reason. Great examples like these by Rick Toone and Santiago Arteaga demonstrate inventiveness and ingenuity and serve as great inspiration. Now it's time to look at yet another bass – Mats Erikson's Klein KX-Bass inspired custom.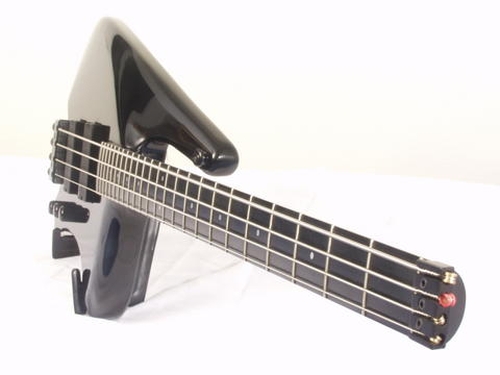 KX-Bass Overview
First, here's a quick run through the bass guitar's basics:
1 piece swamp ash body
Moses Graphite neck – Steinberger replacement model
Double Ball End strings headpiece
EMG pickups Extended Series CS-35 and DC-35 with two 9v batteries
Minimum of 20 layers of "grand piano black" paint
Steinberger licensed bridge – originally fitted with an ABM with wider spacing
Plek neck set up
The Plek system is very interesting. According to the site, "The Plek is a computer controlled machine tool that scans and dresses an instrument as it is, strung and tuned to pitch". The result is a neck with low action and that free of buzzing.
Sculpted to Fit
Because this is a custom model, Mats had an opportunity to do something quite unique:
A "papier-mâché" guide model was molded around my stomach. The bass is made comfortable for me only. Tall people report having problems sitting down with it. I am a short, slightly tubby person. It fits me perfectly and wraps snugly around my belly! I can't gain weight or lose weight too much then it won't be/feel as comfortable!
You can't beat that level of customization!
More on the Bass Body
It differs from the original Klein KX-bass a lot, in that it's missing the ridge that has been carved out on the right arm elbow part. This body has only a rounded spherical contour as shown in one of the pictures.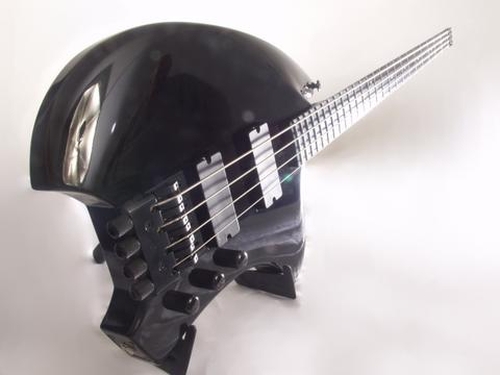 Directly Coupled Pickups
Mats also describes an interesting approach to mounting the pickups:
The EMG pickups are connected with DIRECT COUPLING method, which mean they are set to one height only and almost squeezed into their cavities and screwed snugly and tightly to the bottom. EMGs pickups should be as close to strings as possible, so there was no need for having any adjustable option. This increases sustain and the body's vibrations spills over into the magnets inside the pickups. All sides of the pickups, but the front, have close connections with body wood, and the cavities have no shielding paint, or paint at all.
Mats states that the "tone is very vibrant, and I can feel string frequencies into the strap up to my shoulder when playing."
ABM to Steinberger Bridge
Mats' thoughts on the bridge change:
The change from ABM to Steinberger bridge has made me think about lowering the neck-to body-angle a bit, since the Steinberger bridge is a bit sleeker and slim. It makes the string seats have to be set very high in order to stay clear of the un-adjustable pickups almost leaving no room for intonation.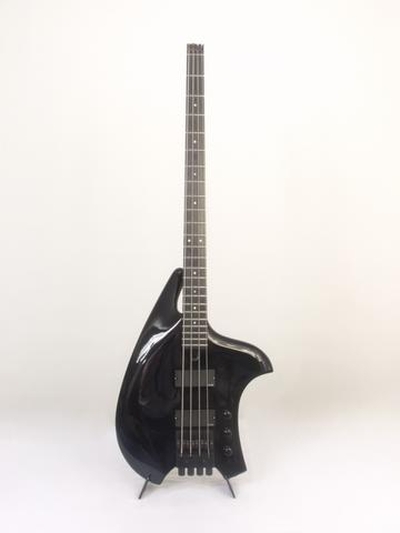 Many thanks to Mats Erikson for sharing his Klein KX-Bass.