Little Guitar Works luthier Jerome Little has been busy – busy bringing his remarkable Torzal Natural Twist Neck to the Klein electric guitar! It's an exciting combination that brings Jerome's Repetitive Stress Injury (RSI) fighting neck design to the Klein's already excellent ergonomic design.
For those unfamiliar with the Torzal neck concept, it's actually quite simple. By angling the neck downward at the nut, the degree of wrist flexion in the fretting hand is reduced thus resulting in a healthier, more neutral position for the wrist. Check out this Bass Guitar Magazine video review for more on the benefits of the design.
We've seen Jerome's work several times before including his custom bass guitar for Xavier Padilla but this is the first time I've seen his innovative neck applied to an electric guitar.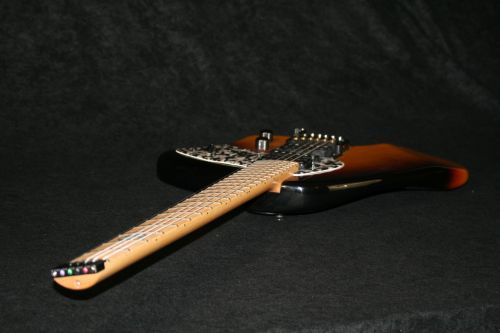 Jerome built the neck for a Klein Electric Guitar owner and discovered an interesting detail about its neck pocket:
I had never taken apart a Klein electric before, and I was interested to find that the neck pocket had a 5 degree angle on all three sides. Once I got the neck to fit perfectly (actually better than the original), it was obvious how that bevel serves to really lock the neck in place.
The specifications of the neck include 14 degrees of twist – from 0 at the bridge to -14 at its zero fret. Stainless steel frets were used at the request of the owner but all other dimensions were duplicated from the original Klein neck.
Granted, the Torzal Twist neck may not be for everyone. If you're still craning your neck to watch your fretting hand, then having the neck twist away at the nut may make it harder to see what you're doing. But for the experienced musician suffering from RSI or the guitarist seeking to practice prevention, Little Guitar Works may just have the answer for you.