Ergonomic acoustic guitar design has largely been limited to evolutionary change in part influenced by the thought that an acoustic can't sound "right" if we deviate from traditional construction methods.
Enter the revolutionary MaSh headless acoustic guitar. It's the brainchild of musician Henry Olsen who's played with the likes of Velvet Underground members Nico and John Cale and is probably best known for his bass work with Primal Scream from 1988-1995.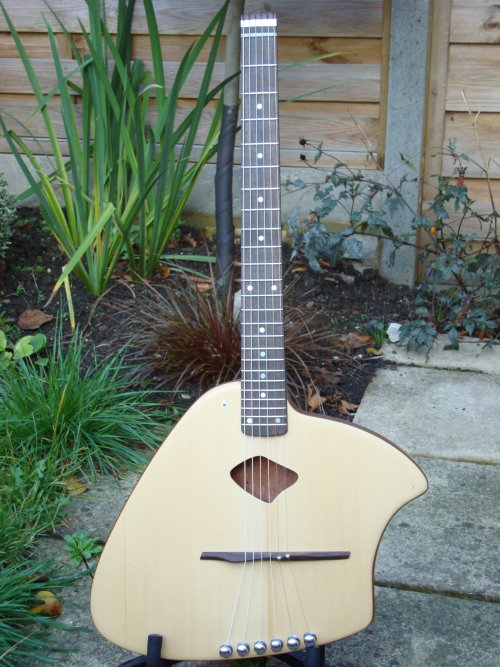 Built by U.K. luthier Dave Dearnaley, the instrument is influenced by the Klein guitars Henry owns and loves both of which are no "ordinary" Kleins. You see, guitars #102 and #104 were previously owned by Bill Frisell. Serial #104 is particularly notable for having been played on Nashville and Good Dog, Happy Man. Henry took his experience with them and applied them to his acoustic guitar concept.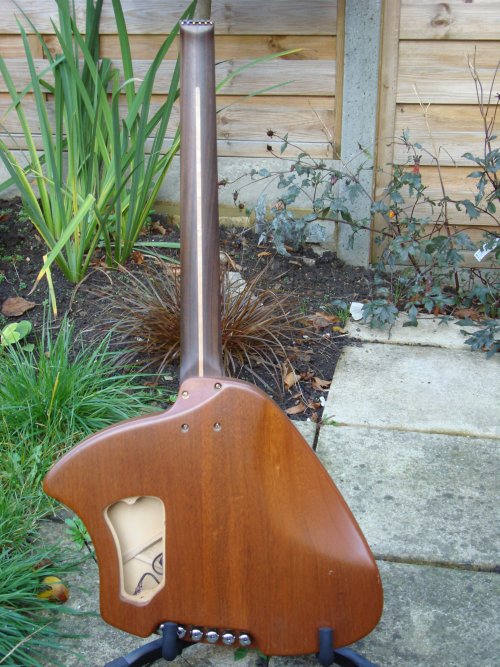 Henry's initial impressions are very positive. According to Henry…
The guitar is exactly what I wanted. It is as loud acoustically as my Gibson ES125T, as comfortable to play and hold as my Klein and will fit easily into any overhead locker in a train or plane. I miss the top arm rest, which we couldn't design into the body, but I'm more used to it now than I was at the beginning.
And as you would expect from an ergonomic guitar, the instrument is well balanced and light weight. The MaSh weighs in at a feather weight 4lbs.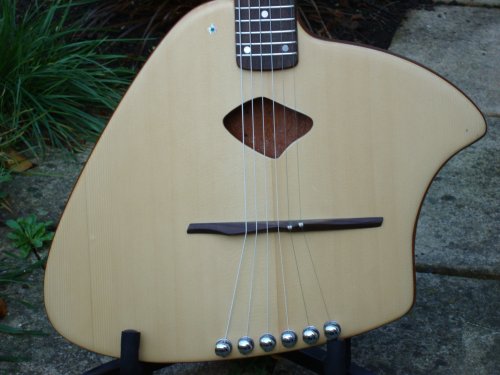 Now for some details:
Top – 4mm thick Spruce with X bracing
Back – 12mm thick Honduras mahogany carved from a solid billet
Neck – one piece Indian rosewood with a truss rod, 24 frets and Fender-type nut. (Note the skunk stripe).
Bridge – Indian rosewood and custom carved
Steinberger gearless tuners
String Retainers – Carved into the neck with white plastic to stop the strings rubbing against the wood and to support the nut
Savarez Argentine Gypsy Jazz Acoustic Guitar Strings – Henry describes these as giving the MaSh a more North African 'aroma'.
It's worth noting that the Steinberger tuners proved somewhat problematic. Out of two sets, two tuners were faulty out of the package and two disintegrated during installation. Yet another failed after only a week! Nonetheless, Henry is sticking with them.
The mahogany and rosewood are salvaged wood from an old bank – important in a world where woods for guitar making are increasingly limited.
The next several shots give us a closer look at some of the details on the MaSh.
Unlike a typical acoustic, the MaSh includes a belly contour, a heel cutaway and extensive contouring – made possible by the fact that the back is carved from a single block of wood! You can also make out some of the Spruce top's bracing: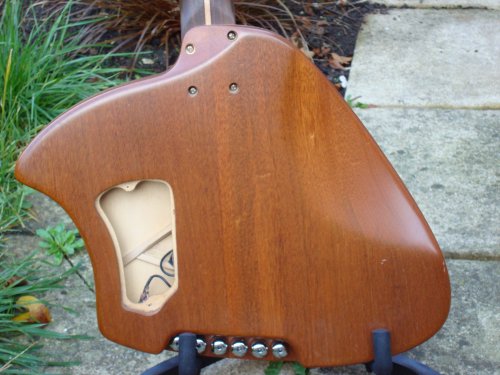 Here's a shot of the smooth heel contouring: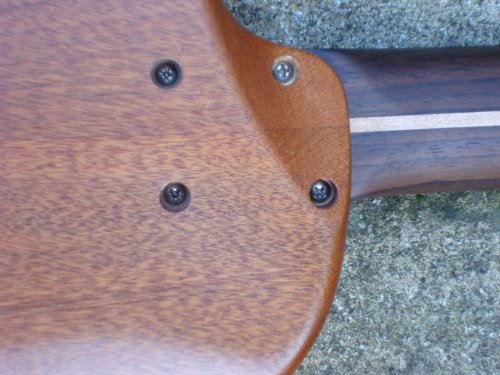 And, here are the Steinberger tuners from the rear of the guitar: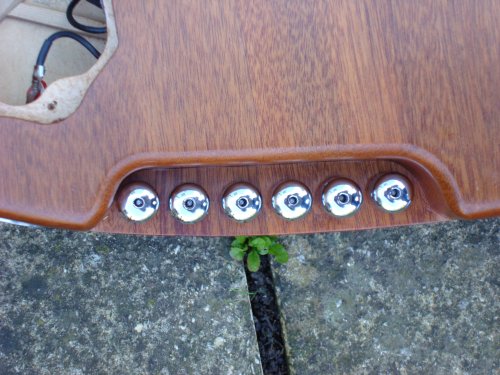 This closeup of the rosewood neck shows us the string retainer integrated into the neck as well as the Fender like "skunk stripe" for the truss rod:

The big question though is… "how does it sound?" Henry had this to say of his creation:
It has the acoustic sound of a hollow-bodied Thinline Gibson, e.g. 125, 330 or Byrdland but produces more volume. Low mids are weaker, bass is hardly present, but all other frequency bands are well-represented.

The acoustic contact microphone in the body does an excellent job and with EQ boost, the guitar sounds quite rich and full, with the sound tending more towards a Maccaferri than a Martin or Guild. I prefer to play the guitar acoustically.

I use Dugain ram's horn picks and a Selmer Stadium 14 W combo or a Fender Princeton Reverb when I (rarely) need an amp.
From everything Henry has shared, the MaSh acoustic guitar is a great success both musically and ergonomically. Consider that this guitar is essentially a proof of concept and it's even more impressive. Imagine what further tweaking might accomplish!
Its very success is a challenge to guitar makers to explore new territory as the MaSh clearly shows that there is a great deal of room for successful experimentation in designing acoustic guitars.
Many thanks to Henry Olsen for his wonderful guitar design as well as the pictures and details that made this article possible.