With headless guitar parts both difficult to track down as well as expensive, the diy guitar builders in the crowd are fortunate to have reader Jeff Turpin share the following pictures and information on headless tuners he's made over the years. If that wasn't enough, Jeff has taken three different approaches on three different instruments – an acoustic guitar, an acoustic bass and an electric guitar. Let's take a look…
Acoustic Guitar
The first set of headless tuners is on an acoustic guitar Jeff made back in 1989. Jeff shared this:
…the brass was hacksawn and filed, drilled and tapped with just the simplest of tools. It works well and rarely needs any tuning, just climate change. There is even some surface rust but it went back together smooth.
Here are the tuners from another angle: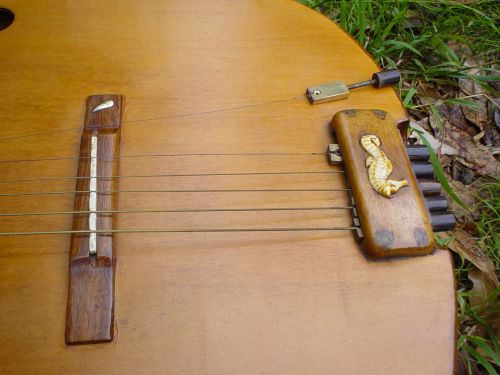 Simple and elegant. What more can I say?
Bowl Back Bass Guitar
This instrument was started along with the guitar above and finished in 1993 while taking a slightly different form to tuning the headless bass.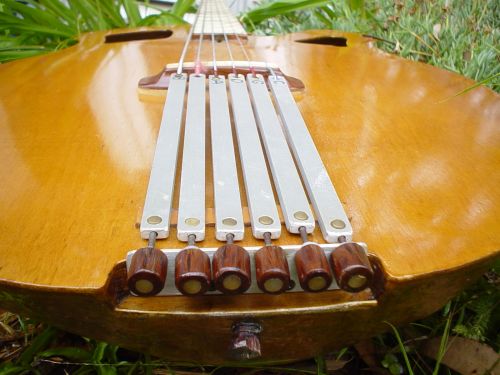 Here's another view:
And here's a nice shot of the overall instrument: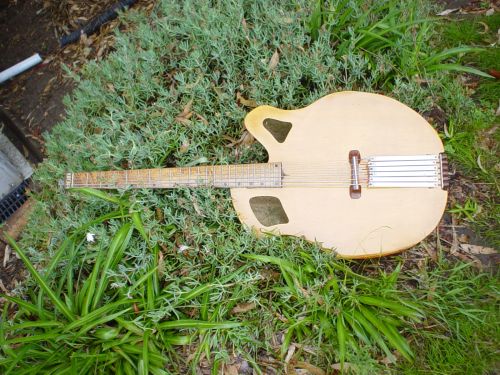 Electric Guitar
Next, we take a look at a much more complex design: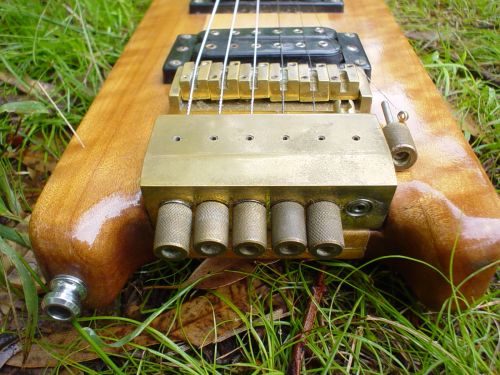 The electric is from '87 and I used a milling machine and drill press to make the bridge and tuners. They use ball bearings but its overkill and adds too much weight but I was after the sustain.
Sustain indeed!
Jeff also shared the following details about making the headless guitar tuners:
I've built 4 headless instruments, each time making the tuners with 35mm long M3 screws, with wood or brass head added. Then from brass stock cut blocks, hand drilled and tapped an M3 thread to get the 11mm of movement required to bring the string to pitch. This holds the ball end and a M4 allen key grub screw clamps the other. None of this requires special machines. The screws are from electrical supply shops. A thin shim of plastic does the job of ball bearing races. (Portuguese guitars have a similar system, well worth checking out).
Another one of our readers, Michael Preston, shared this great link to an example of a Portuguese guitar or guitarra portuguesa that Jeff references. Thank you Michael!
I suspect a few of us will now be sneaking off to the workshop in search of our own headless guitar tuner solutions.
Many thanks to Jeff Turpin for sharing his work with us.