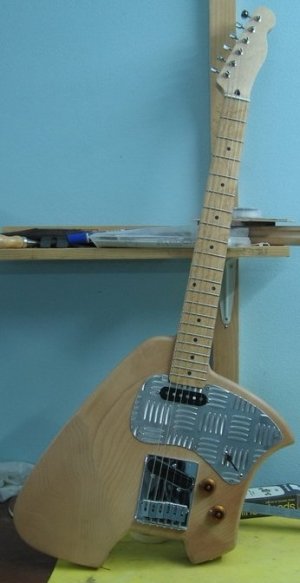 What happens when you cross a Klein electric guitar and a Telecaster? That's easy. You get the "Kleincaster" by Lavish Guitar! A recent entry into the Klein clone arena, this guitar matches a Klein style body with a Telecaster style neck and bridge.
Leveraging the ergonomic advantages of the Klein guitar shape – good balance, excellent picking arm support, superior position while sitting – Lavish Guitar uses a conventional neck and bridge avoiding the issue with obtaining quality headless guitar parts.
BTW, for the diy guitar builder, conventional guitar parts greatly ease making a guitar. Parts are plentiful and choices abound. You'll also find that the vast majority of information on guitar building focuses on guitars with headstocks. But don't let this stop you from finding headless guitar parts.
In this particular case, the surface mounted Tele style bridge eliminates the routing necessary for the Steinberger bridge and the extra material helps to compensate for the headstock's weight.
Other details include the single coil neck pickup, the dual blade single coil sized bridge humbucker and the unusual aluminum plate pickguard.
For more on the "Kleincaster", go to Lavish Guitar where you'll find additional construction pictures.
And for another excellent example of an ergo guitar with headstock, take a look at Adrian Legg's custom guitar which uses a 3×3 headstock. You can see it in action in this excellent Adrian Legg YouTube video.