It's taken two years of design but Ben from Crimson Guitars and extended range bassist 05Ric have collaborated to produce the extraordinary bass guitar you see here. Its beautifully minimalist appearance aside, the instrument contains several interesting features and design choices.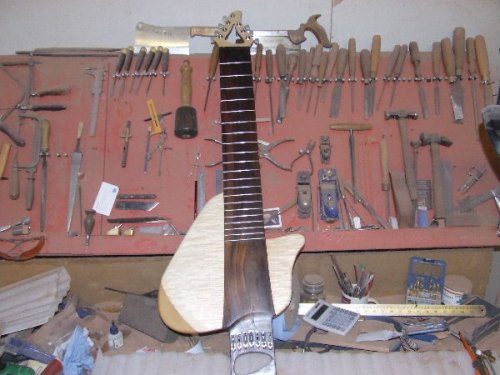 Ergonomics – Shape, Weight and Balance
The main motivations for the Klein inspired design are ergonomics, ease of playability and comfort so for starters, the guitar body is made from light weight cedar with a maple cap.
Another important factor is balance and the design addresses this in several ways. First, the headstock's mass has been reduced and combined with lightweight Sperzel tuners. I was curious about the choice of a headstock over a headless design but Ben found that the combination "negated any issues with neck-drop." Second, note how the neck through design extends below the body. Combined with the bridge placement, it acts as a counterbalance to the headstock. Third, the multi-laminate neck actually contains two tone chambers running down its length reducing mass and improving balance.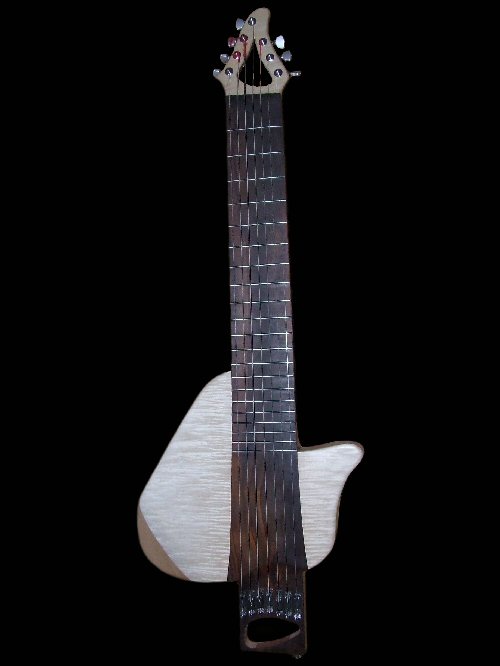 Playability
Designed to address 05Ric's unique playing style, the instrument incorporates aspects of the Chapman Stick and a conventional electric guitar. The bass side of the guitar is played with a tapping technique and so was built with a flat fingerboard. Move over to the guitar side of the neck and you'll find a 12.5″ camber to facilitate playing in a more conventional fashion.
Electronics
You might be wondering – "Where is the pickup?" It's there but its hidden. A custom pickup with very powerful magnets picks up string vibration despite the 8mm of solid rosewood and the 10mm of air between it and the strings.
Build Time
I had to note this because I thought it was quite extraordinary. 05Ric worked out the design over the course of two years and then Ben from Crimson Guitars executed the build in about a week! You just don't see that speed of execution on even basic designs let alone a guitar as unique as this.
Closing Comments

Is the design a success? Here's a quote from Ben that says it all:
Ric fell in love with her before I even put the pickup in and once she was 'alive' he went and re-recorded most of the guitar/bass parts in his upcoming album with Gavin Harrison.. this was done one week before the album was supposed to go for its final mix!!
Finally, thanks to Crimson Guitars' generosity, I'll have several follow up articles showing progress pics for the 05Ric Signature Model ERB.