As promised, in my previous Forshage guitar article, here is the first installment in the making of the headless Forshage guitar. We'll start with the guitar neck which is comprised of maple with an ebony fingerboard: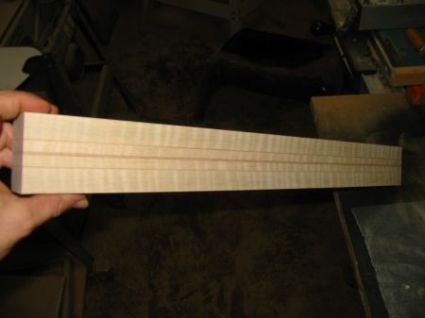 One of the first things you'll note is the laminate neck construction. Chris explains his approach:
I laminate 4 pieces of soft maple together. The two outer pieces are book matches of each other and the two inners are book matches as well. This makes for a very stable neck. If any of the pieces want to warp in any direction, its mirror image wants to warp in the opposite direction, canceling out any potential movement. The laminating also adds some stiffness. What you get is about as stiff as rock maple but it sounds a little smoother, less harsh on the highs.
Here we see the neck much further along with its basic contours in place and an interesting detail which will become obvious in later pictures – a small "headstock" intended to address a common complaint about headless guitars – the lack of transition down around the first fret.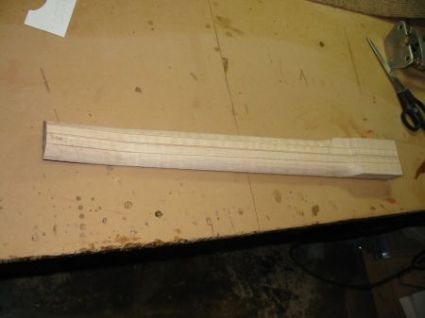 Chris has this to say about it:
I'm not crazy about the way headless guitars feel at the end around first position so I made a little headstock with a bit of an angle that you can feel when you get to the end.
In the process, Chris makes the guitar friendlier for guitarists accustomed to traditional guitars. He accomplishes this in an aesthetically pleasing manner and without negatively affecting overall balance and size.
Moving along, we see the ebony fretboard and the stub "headstock":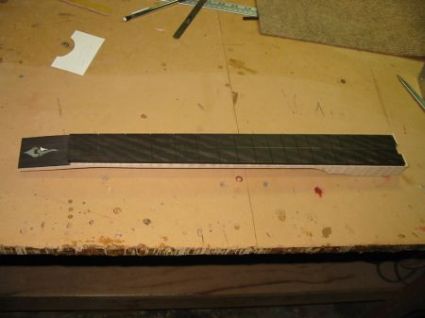 Finally, we see a great shot of the neck with its frets fitted and Chris' lovely inlay work: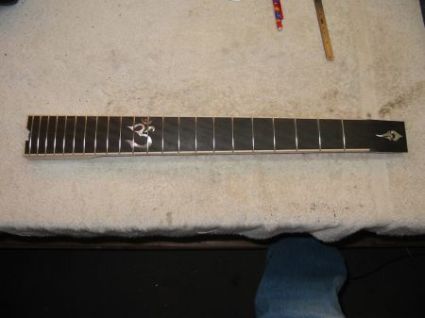 In the next installment, we'll take a look at the guitar body during the build process. Thanks go out to luthier Chris Forshage of Forshage Custom Instruments and soon to be Forshage guitar owner Dr. Marc Ybaben of the jazz group The Marc Why Group for sharing the details of this instrument.