Along side a range of archtop and hollow body guitars, Texas luthier Chris Forshage of Forshage Custom Instruments builds an exciting hollow body electric guitar that takes ergonomics seriously.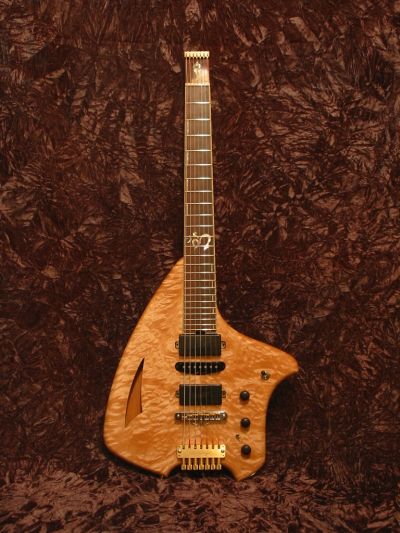 Chris came up with the idea for his ergonomic guitar after trying a Klein Electric Guitar. As Chris puts it, he "played one and really liked how it sits on the leg. After playing the Klein everything else seem to sit too low, too close to the leg."
However, Chris found "there were other aspects of the instrument that weren't so great. No truss rod was a big one. " (The Klein is a guitar without a trussrod in its rosewood neck.) He also "figured that a hollow body and a set neck would sound pretty good as well as help the weight (mine weighs about six pounds)."
Inspired by the Klein guitar, the Teuffel Tesla and the Ovation Breadwinner, Chris arrived at a shape that retained the advantage of the Klein's lower bout shape (the area that sits on the leg) while reworking the rest of the shape. In the process, he addresses the elbow area which "on the Klein bothered me so I made it smaller and more comfortable. I then had to move the neck joint farther down the neck to keep it balanced."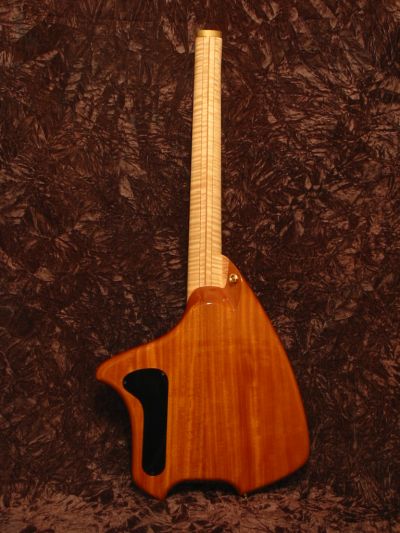 The result is a unique instrument which is lightweight, well-balanced and comfortable.
Coming up soon – Due to the generosity of Building the Ergonomic Guitar reader Dr. Marc Ybaben of the jazz group, The Marc Why Group, we'll have an opportunity to see elements of this guitar during the build process. Marc currently has one in the works and has been kind enough to share a number of pictures showing various details.