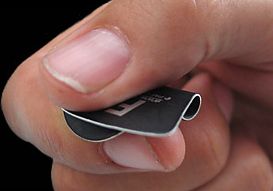 That's what I wondered when I came across the Big Rock guitar pick. In fact, this is exactly what this unique design promises. The F-1 and X-1 guitar picks from Big Rock Engineering improve the guitarist's grip on the pick through the use of a concave surface that helps the guitarist hold the pick in a consistent position while using less effort.
Many guitarists deal with conventional picks slipping from their fingers and these picks eliminate this problem. The F-1 is their "fixed" design (seen in the photo) while the X-1 is assembled with the guitarist's choice of one of several picks in either an index finger grip or a thumb grip. A better grip means a reduction in force and tension which is valuable for any guitarist but of particular benefit to sufferers of repetitive strain injury.
UPDATE: Read my long term review of Big Rock Engineering's guitar pick solutions.