I now have the guitar neck, bridge and headpiece courtesy of the Steinberger Spirit Guitar I purchased from Musicyo.com – seen here in its final moments.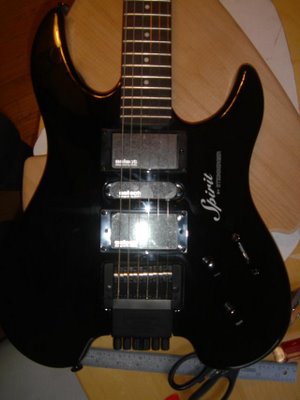 I had briefly contemplated building the neck but decided against it. The most important aspect of this guitar build is producing a playable ergonomic guitar. I decided that building a neck would push this out too far. Neck building will have to wait until I have had the opportunity to review potentially beneficial features.
That said, I proceeded to dismantle the Musicyo Steinberger removing its neck (with headpiece) and bridge. I then began taking measurements in preparation for the routing needed for the neck and bridge. I also spent time drawing in contour lines and a center line.
As weight is an important factor (see Important Elements For An Ergonomic Guitar), I weighed the major components of the guitar. Here are the results:
Neck (including headpiece) – 1 lb 4.6 oz
Bridge – 1 lb 5.1 oz
Body – 3 lb 12.6 oz
I'm particularly happy with the weight of the guitar body. By comparison a lightweight Strat body is about 4 lb with most bodies weighing in around 5 lb. At this stage, the only action I've taken to reduce weight has been to begin with a body blank that is .25 inches thinner than the standard 1.75″ body blank. I would have considered going thinner but I was limited by the depth of the bridge route required for the R-trem bridge. The body will become even lighter once I route for the bridge, neck, control cavity and pickups. Comfort contours will also cut weight.
Finally, I took a moment to clamp on the neck and sit the guitar in my preferred classical position. I was happy to find that it balances well needing no support from my hands in order to sit in my lap with the neck angled up. It was also comfortable in conventional playing position.
My next steps are routing the neck pocket and bridge area and then test fitting the neck and bridge. Once complete, I will move on to the remaining routing and shaping.
More on my first guitar project: