Inspired by the previously covered Crimson Guitars' 05Ric Extended Range Bass, John Garncarz set out to build his very first custom guitar based on this design. With mainly a background in lathe turning it's quite a first guitar project – taking about 9 months to complete.
Electronics
John had this to say about the hidden pickups…
The pickups are recessed in the body, under the fingerboard, aft of the last fret. Each pickup is a sewing machine bobbin with a neodymium magnet in the center wrapped with 43 gauge wire. Imagine the Ned Steinberger upright bass individual pickups, but hidden. All seven are wired in series through a single volume control.
Balance
While quite heavy at 11.5 lbs, in part due to its bloodwood construction, the bass sits well. According to John, "with the tuning pegs in the rear, the center of gravity is just aft of the volume knob."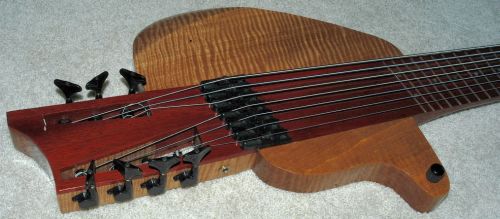 Headless Bridge Arrangement
Seven Hipshot triple lock down individual string bass bridges handle the strings on their way to the Gotoh tuners located at the rear of the guitar. It's an approach we've previously seen on the Soloette headless guitar.
Specs:
Laminated Curly Anegre and Bloodwood neck
Curly Anegre Kline style body
7 Strings (in the key of B)
7 Individual bridges
7 individual hand wound neodymium magnet pickups
24 fanned-fret, zero radius bloodwood fingerboard
36 inch scale
Gotoh tuners
Mother of pearl dots
Tung oil finish

As John told me, it was "a lot of work for my first stab at building a custom musical instrument" but clearly worth the effort.
Thanks for sharing your project, John!