Until now, the main way to get a tremolo bridge for a headless guitar has been to opt for a Steinberger bridge. However, Ola Strandberg's work on a Floyd Rose replacement tremolo designed for headless guitars stands ready to change this.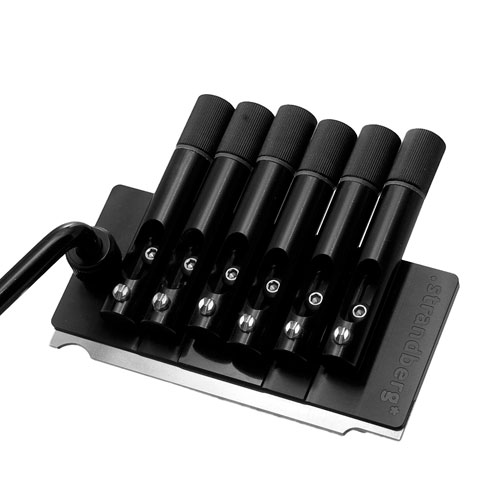 More Necks, More Strings
Ola's design brings huge benefits in choice to both the guitarist and the guitar builder. By basing it on the Floyd Rose bridge, neck options are wide open compared to Steinberger based necks. In addition, the Strandberger bridge works with conventional guitar strings thus eliminating the constraints around the limited choices in double ball end strings.
Light Weight
The Strandberg bridge also wins big in the weight department. Compared to the 600 grams of the Floyd Rose and tuners used for comparison, the Strandberg weighs a mere 140 grams. And did I mention, it looks great?
Playing the Strandberger Bridge
Ola provides sound samples of the Floyd Rose and his Strandberg in his article Sound Advice and the results are more than promising. And while he identified some remaining challenges, progress has been excellent and I'm confident that Ola's methodical and thoughtful approach will solve any remaining issues.