In part 2 of the Eric Olds Klein Electric Guitar Project, we take a look at the completed guitar and Eric's headless tuner system. Also included are download links for plans to the Klein based guitar body and the tuning tailpiece.
The Guitar Body Plan
Eric generated full scale plans of the front and back of the guitar body and very generously made these available in Adobe Acrobat format for our readers. Here's a preview of page 1 of the plan:
To download the plans, right click on the link below and choose to save:
Klein Electric Guitar Copy Plan.pdf – 366 KB
The Finished Guitar
The finished instrument features a primavera guitar body, a fanned fret maple neck and a fixed headless tuner solution of Eric's design:
Lace Alumitone pickups are matched with a 5 position blade switch.
The Tuning Tailpiece
Eric's tuner solution takes a number of off-the-shelf parts and transforms them into a tuning tailpiece or tailstop. Combining a Schaller roller bridge and a headpiece of extruded aluminum angle, it's effective and lightweight. If you're willing to forgo a tremolo bridge, the 2.6 oz roller bridge and 6 oz tuning tailpiece are a featherweight combination compared to the almost 1.5 lb Steinberger R-trem bridge.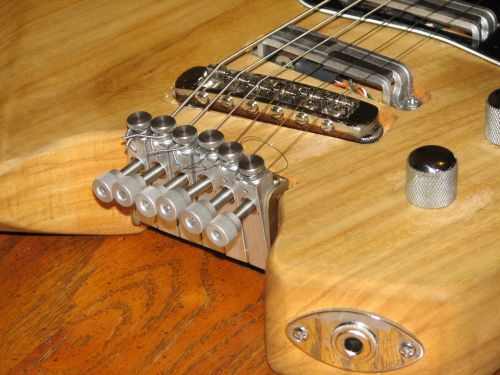 For those interested in studying the tuning tailpiece further, right click on the link below and choose to save the six page PDF file:
Tuning Tailstop.pdf – 1.08 MB
Eric's drawings cover everything you need to know to assemble one of your own and it looks good. I can certainly see myself considering it for a future guitar build.
Many thanks to Eric for sharing his build and his tuning solution!