While staying true to his ergo guitar design, Chris Forshage still tailors each instrument to the customer. In this case, Alan Barley had his guitar built with several differences including a thicker 1.75″ chambered body and 14 frets of clear access.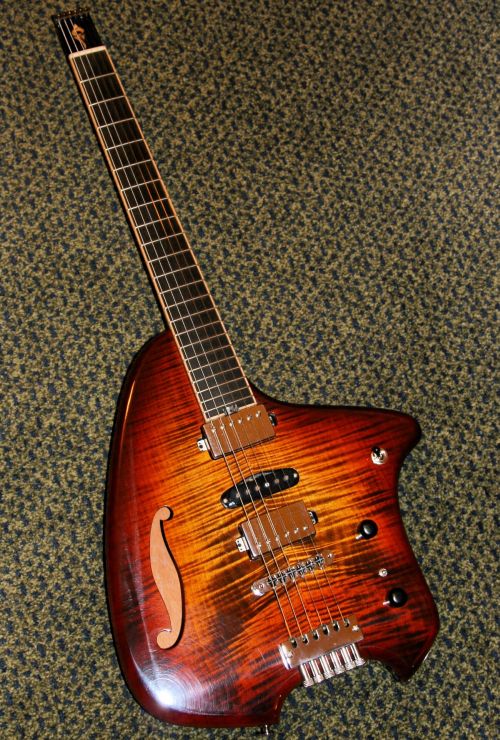 For tonal variety, Alan's guitar includes Schaller Golden 50's pups, a Duncan single coil, and a Graptek piezo bridge.
This next view gives us a great look at the mahogany back and the contouring where the glued in laminate neck and guitar body meet: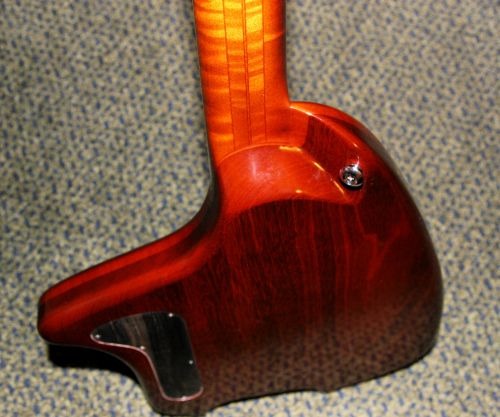 Alan had this to share about his results:
So far the guitar works well for rock and overdrive/distortion sounds, really is great for neck pickup clean, smokey jazz sounds, and the piezo sounds great too. Chris matched the neck size and profile of my Benedetto Fratello with a 1 3/4″ nut so it is nice for fingerstyle pieces. The neck is a piece of art. It is the most comfortable neck I own. The fit and finish is impeccable too. Rivals the Benedettos. My idea for this guitar was to be able to do fingerstyle jazz but still be able to use it for rock/gospel and the odd acoustic gig. It looks like it will do all of that well.
I really like the look of this particular model – from its figured top and neck to the choice of colors. For more on this beautiful guitar, including progress pictures, visit Alan's Guitar List.