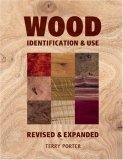 Wood Identification and Use is an essential reference handbook on the nature of wood – including working properties, seasoning, figuring and wood toxicity.
Does it surprise you that wood might be toxic? Alder, one of the most commonly used guitar body woods, can cause dermatitis, rhinitis, and bronchial problems in dust form. Mahogany, the other most commonly used guitar wood, has been linked to all of these and even nasal cancer! Things get even more interesting when you start dealing with exotic woods. Wenge, for example, exhibits the following toxic effects in wood and dust form:
Splinters go septic, irritation of eyes, skin and respiratory system; dermatitis, giddiness, drowsiness, visual problems, stomach cramps
Clearly, lung protection is essential. I chose to protect myself with this quicklatch dual cartridge respirator. Not only does it provide far greater protection than the common paper mask, it also protects against vapors released by many guitar finishing products.
Protecting your hands is also important and nitrile gloves protect against harmful chemicals and exposure.
Ultimately, what makes Wood Identification and Use such a great resource is its organization. The Wood Directory contains a one page synopsis for every species – including a beautiful color photo, typical dry weight at 12% humidity, density, working properties, seasoning characteristics, durability, possible health risks, where it grows and typical uses. It's everything you need to know about a species of wood at a glance. I suggest adding it to your guitar building bookshelf alongside Woodworking with the Router and Hiscock's Make Your Own Electric Guitar.