Recent weeks have reminded me of one of the reasons I started this guitar blog. My wrists have been aching more than usual due to Repetitive Strain Injury or RSI. It's not as bad as when I wrote about it way back in Dealing with Repetitive Strain Injury (RSI) but nonetheless it's been a sobering reminder of this problem and its relevance for guitarists. As guitar players, RSI or Repetitive Strain Injury is always a potential risk. Time spent on the computer only adds insult to injury and if you're reading this blog, it's probably safe to say you spend your fair share on the World Wide Web. Add a few blistering performances on Guitar Hero and we're seriously setting ourselves up for pain and suffering. Fortunately, there are plenty of resources available to help us contend with RSI and I thought I'd share a few of them with you.
Workrave
An excellent way to help mitigate the ravages of working on a computer is the use of short and frequent breaks or "micro breaks" accompanied by periodic longer breaks that include stretching. Luckily, there's Workrave – a small application which "assists in the recovery and prevention of Repetitive Strain Injury (RSI)." Fully configurable, "the program frequently alerts you to take micro-pauses, rest breaks and restricts you to your daily limit." Workrave sits in the Windows System Tray (there is a Linux/UNIX version as well) and based on your reminder settings, pops up and reminds you to take periodic micro-breaks as well as longer rest breaks which include suggested stretches. A number of studies have demonstrated the value of this approach and Workrave delivers this for free. I think it's a must have for anyone who spends any significant amount of time on the computer.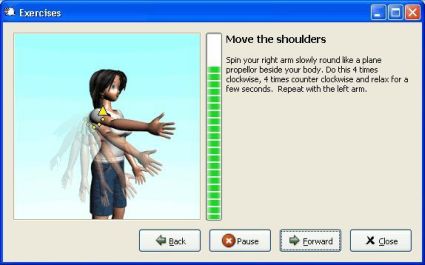 Alexander Technique
I've heard about the Alexander Technique before but the recent article, The Alexander Technique For Musicians and Actors has reminded me that I should look into this whole body approach to dealing with tension and strain. F.M. Alexander, himself an actor, came up with the technique when his "own tension caused him to lose his voice while performing". For guitarists, this means dealing not only with unnecessary tension while playing guitar but also dealing with the tension that already resides in our muscle memory from every day activities. All in all, it looks like powerful stuff. Thanks to fellow guitar blogger JP from Stratoblogster.blogspot.com for pointing out the article.
For more on dealing with guitar related RSI, see Eight (8) Ways to Combat Repetitive Strain Injury.