Building the Ergonomic Guitar reader Mats Erikson recently shared information on his Klein Electric Guitar Replica.
Here are some of its features:
Guitar Body – Swamp ash.
Neck – Moses Graphite composite Steinberger replacement neck (with truss rod).
Bridge – ABM Single Bridges (combined with a locking nut).
Pickups – Harmonic Design Z-90 in neck and bridge positions.
Output – Strat-style output jack.
The replica's guitar body, like my own first guitar project, is based on the harp guitar plan available from the Guild of American Luthiers. It should be noted that the harp guitar is somewhat wider than the original Klein, particularly in the area under the player's picking arm. In Mats' case, the decision was made to cut this down to bring it closer to the original Klein. I, on the other hand, left my guitar body as per the plan.
Unlike the original Klein which uses a rosewood neck with out a truss rod, Mats opted for a Moses Graphite composite neck with truss rod on his guitar build. Contrast this with my use of a maple neck with rosewood fingerboard obtained from a Musicyo Steinberger.
Mats also went with the ABM single bridges instead of one of the Steinberger headless tremolo bridges used on the original. The ABM single bridge arrangement is, in essence, a fixed bridge. Mats makes the following observation:
This increases sustain and compared to my original Klein, this one actually has greater "blooming" sustain on the lower part of the neck, i.e. below the twelfth fret.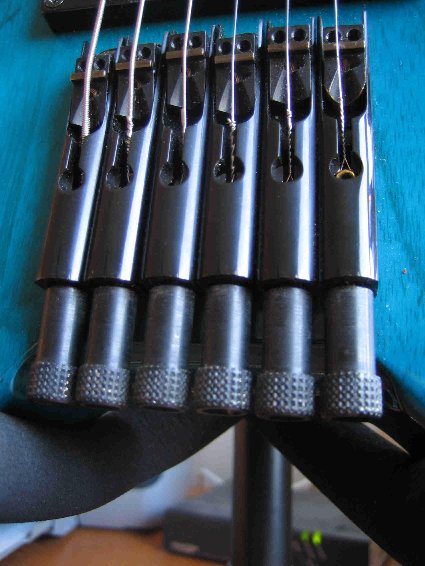 I particularly like Mats use of the ABM single bridges and a conventional locking nut. Although the convenience of using double ball end strings is lost, it opens up use of a much greater variety of conventional guitar strings. It also eliminates concerns over the availability of double ball end strings. I'll need to add the ABM single bridge solution to my article Guitar Building Resources for Headless Guitar Designs.
I also like Mats decision to move the output jack to the surface of the guitar. I made a similar decision on my guitar build in order to facilitate playing in classical position.
How does it sound? According to Mats, the Harmonic Design Z-90 pickups are "great pickups" with "great fidelity". He describes the tone as "almost acoustic in sound".
Other comments? Well, Mats mentioned that he'll probably be making this his gigging guitar. Apart from his concern over risking his original Klein in club situations, it obviously speaks to the success of his guitar project.
Many thanks go to Mats not only for sharing the details of his Klein Guitar Replica but for his engaging comments on Building the Ergonomic Guitar.
Correction: Sorry for the miscommunication. Mats guitar does, in fact, use a standard headless neckpiece and employs double ball end strings. My apologies to everyone for the misunderstanding. However, the idea still stands – you could make use of a conventional locking nut with these single string bridges and avoid concerns over double ball end strings. Also, Steinberger produces an adapter that will allow use of conventional strings.