An acoustic electric guitar design by Jerome Barde, the Bardophone is one of the most outstanding examples of guitar design for ergonomics. Where many other guitar builders have taken only small evolutionary steps, Jerome starts with a clean slate "reconsidering the whole concept of the guitar body (proportion, volumes, shapes, balance, angle) and by looking for an attractive and elegant design".
A professional guitar player for 25 years, Jerome became interested in making a guitar that would sit well when seated. The result of a long design phase and several prototypes, the Bardophone is an impressive reinterpretation of what an ergonomic guitar can be.
On his web site, Jerome defines the issues with conventional guitar designs as follows:
A traditional guitar is structurally made in a way that it is impossible to play it in a correct position without using all kinds of awkward stratagems that can have bad physical effects on the guitarist:

– Using a guitar stool (like classical guitarists) warps your spine and alters the blood circulation in the leg on the stool!

– Folding your legs obstructs the blood stream in the higher leg!

– Using a strap puts weight on your shoulders and your spine!

If you try not to use any of these tricks, your right shoulder (for a right handed person) will stand too high and your left hand will play the guitar's neck in a position that is too low to achieve a respectable velocity ! The ones who still try, end up with a bent back!
As you can see, Jerome' guitar design succeeds in solving these ergonomic issues. The guitarist now sits in a healthy, neutral and relaxed position with the guitar neck angled up to reduce wrist flexion.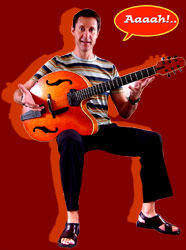 Awarded both United States and European patents, Jerome Barde is looking for a guitar builder to bring his design to market. Visit his site to find out more about the Bardophone acoustic electric guitar.