While Building The Ergonomic Guitar has focused primarily on electric guitars, many of us enjoy playing the acoustic guitar where ergonomics is no less of a concern. Fortunately, several acoustic guitar makers address ergonomics in their designs as well. Noted luthier Linda Manzer of Manzer Guitars, the originator of The Wedge©â"¢ tapered guitar body, is one such guitar builder.
Originally seen on Pat Metheny's radical 42 string Pikasso, The Wedge©â"¢ tapered body involves building the guitar so that the bass side is narrower than the treble side – a rather revolutionary step in the acoustic guitar world. Linda "wanted Pat to be able to see the surface of the guitar in order to pluck the correct strings, but the added bonus was that it is actually a lot more comfortable to play."
For the acoustic guitar player, The Wedge©â"¢ provides two clear benefits. First, rotating the guitar's surface toward the guitarist reduces the potential for neck strain. Second, like an electric guitar's forearm bevel, the thinner bass side brings the arm closer to the body alleviating strain on the shoulder joint. According to Linda, "when Bruce Cockburn developed a pinched nerve in his right arm, he traded in his much loved – but deep bodied – Blue Manzer steel string for a 'Wedged' Manzer model. Immediately it made a world of difference to his comfort level of playing and he was very happy and very relieved."
With such benefits, The Wedge©â"¢ is available on the range of instruments Linda builds from steel string to nylon string to archtop. However, Linda's work is in high demand and there is a wait. As of this writing, the waiting list was closed but expected to reopen soon.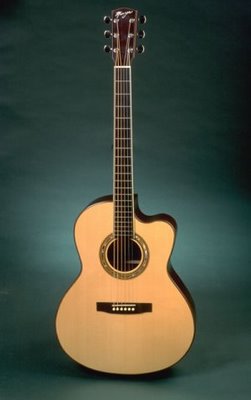 Fortunately, Linda welcomes other luthiers to incorporate The Wedge©â"¢ in their own instruments and several guitar makers now offer it as an option. As guitar players, we have Linda Manzer to thank not only for her vision in seeing past tradition but her willingness to share her design with the guitar building community.