Reader PJ Doland recently completed a beautiful Klein Electric Guitar replica. PJ was inspired by Bill Frisell's Nashville album which was recorded largely with a Klein. As you can see in the following images, the first time guitar builder did a marvelous job!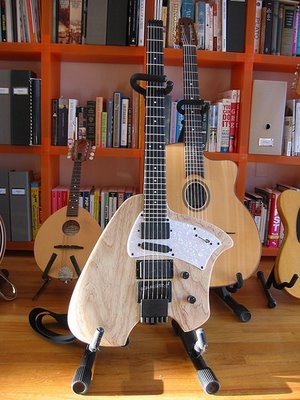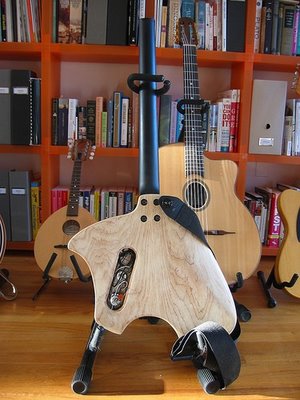 For his electric guitar, PJ chose the following:
1. Swamp ash body
2. Moses Graphite neck with Steinberger headpiece
3. Steinberger Synapse bridge
4. Tru Oil finish
As someone interested in guitar ergonomics, it's great to see someone build a Klein guitar. As a general guitar enthusiast and amateur builder, I'm thrilled to see something other than the usual Strat or Les Paul copies.
Apart from that, it's important to note that PJ successfully mated a Steinberger Synapse bridge with the older Steinberger headpiece which opens up some possibilities. While I went with the R-trem bridge for my first guitar build, I'm not a particular fan of tremolo bridges. My next build will either use a Synapse bridge (also available with piezo pickups) or one of the alternative headless setups I've covered in the past such as this one by TK Instruments or this one by Scott French.