In Make Your Guitar More Ergonomic, I discussed some general ways to address issues of weight, balance and playing effort in an existing guitar. The following list of guitar accessories further illustrate how a guitarist can improve the ergonomics of a guitar with a minimum of effort.
Below is the Planet Waves Dare Guitar Strap. It distributes weight across both shoulders reducing strain on the back, shoulders and neck.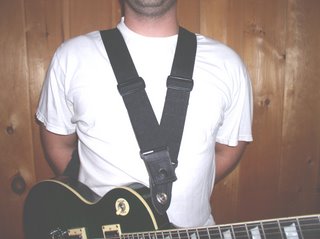 The Slider Strap, seen below, provides similar benefits. Designed like a harness, it should provide even better weight distribution by distributing weight across the back and shoulders.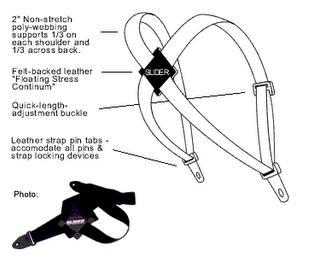 Supports also exist to aid the guitarist while playing in a sitting position. These devices benefit the guitarist in several ways. First, they place the guitar neck at a more ergonomically efficient angle. This allows the guitarist to relax more fully as there is less effort involved in keeping the guitar in proper position. Second, they eliminate the need for a footstool. The use of a footstool acts to twist the spine which can lead to lower back pain. Instead, the guitarist sits easily with both feet firmly on the floor. Third, these supports allow the user to sit with a healthier upright posture, which aids breathing and reduces stress.
The most basic of these is the Dynarette cushion seen below. It is available in two sizes. It is a simple yet elegant solution. However, other support devices allow for greater adjustability.
One such device is the NeckUp Guitar Support seen below. It is available in two different sizes – a narrower version for electric guitars and a wider version to accommodate acoustic guitars. The NeckUp's angle is adjustable and it attaches to the guitar with suction cups.
Another support is the Ergoplay. It also attaches with suction cups but it's even more adjustable. Not only does it allow for changes in neck angle, it also allows the guitarist to angle the guitar toward or away from the body.