Headless guitar designs are particularly suited to ergonomic guitars. By eliminating the weight of the headstock and centralizing the weight of the tuners close to the player's body, headless stringed instruments can end up with significantly better balance. Bass guitars particularly benefit from moving those heavy tuners off the end of a long scale neck. But its also clear from all the guitars that neck dive that there are benefits to be gained from going headless.
But unlike building instruments with conventional headstocks, resources for headless instruments are a little harder to come by. Fortunately, there are a number of resources and approaches. The first portion below focuses on a number of vendors delivering quality headless parts. If you're willing to take an unconventional approach there are examples of headless instruments using conventional parts. And finally, there's even the opportunity to make your own.
Let's take a look at what's out there.
Musicyo.com
Once one of the main providers of headless Steinberger parts, Musicyo.com closed down January 1, 2009. The Steinberger line that was once carried will be available through a retail network but it's as yet unclear whether the bridge parts will also be available. A quick check of several of the listed retailers did not show any parts availability at this time.
However, if the lower cost models remain available, an alternative is to purchase one and strip it of its bridge, neck and headpiece. If you are fine with a wood neck, the least expensive model in the lineup is the Steinberger Spirit GU-Deluxe seen below: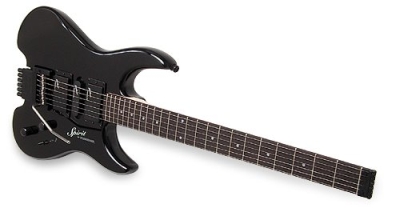 It was the tactic I took with my Klein style guitar project. I'm aware of at least one guitar builder, Francis Lannie, who has resorted to this method. If you prefer a composite neck, models are available but they are significantly more expensive.
As with the standard Steinberger parts, Synapse parts are no longer available through Musicyo.com. It remains to be seen if these will become available through retail channels.
ABM
ABM makes a fixed bridge for headless designs; however, it is incompatible with Steinberger necks. This bridge is compatible with Strat type necks which can be modified to accept the headpiece ABM manufactures.
For examples of ABM guitar parts in use, see the following:
1. Mats Erikson's Klein Electric Guitar replica uses ABM single bridges.
2. Chris Forshage's ergonomic hollowbody electric guitar uses the more typical ABM bridge.
Bondy Guitar Bridge
Jon Bondy makes a fixed bridge drop in replacement for the Trans-Trem, S-Trem and R-Trem Steinberger bridges. See the article Jon Bondy Headless Guitar Bridge.
ETS Hardware
German guitar parts manufacturer, ETS also makes headless guitar bridges ranging from 4 string to 7 string solutions. They're also open to custom solutions. For more, see ETS Headless Guitar Bridge.
Floyd Rose Speedloader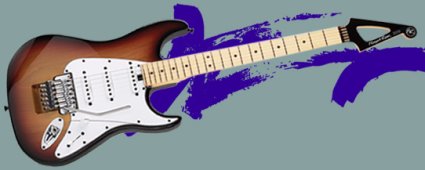 The Floyd Rose Speedloader Bridge is another potential option. As seen to the left, the Speedloader based guitars are essentially headless guitars. The "headstock" exists merely for aesthetic value – it serves no functional purpose.
According to Tech Support at GuitarPartsDepot.com, the Floyd Rose Speedloader Bridge will work on a Strat guitar. Thus, a headless guitar using the Speedloader can take advantage of the many Strat compatible necks that exist on the market.
One caveat with the Speedloader bridge is that it uses specialized strings which are neither compatible with Steinberger double ball end strings nor conventional strings. Long term availability could be a concern.
Moses Graphite
If you manage to obtain just the bridge and headpiece, Moses Graphite makes a composite neck which is essentially the neck they make for Musicyo.com. They also make a Strat compatible composite neck for use in headless instruments.
Strandberg Guitar Works
Strandberg's Floyd Rose Replacement Tremolo – Ola Strandberg has designed his very own Floyd Rose drop in replacement tremolo which will work with headless or conventional headstock design. No special strings are required.
Make Your Own Headless Tuners
Several articles have covered various approaches to making your own headless tuners.
Reader Jeff Turpin shows us three approaches he's taken to making your own headless guitar tuners.
Marcin Marynowski shows us another approach to headless guitar tuning keys
Eric Olds' Klein style guitar includes a tuning tailpiece. Included in the article is a detailed PDF illustrating how to build one.
Using Conventional Parts
With a little outside-the-box thinking, conventional tuners can be used in a headless design. Here are a few notable examples:
Romano Zambon Electric Guitar Plan uses Steinberger tuners in the body.
Henry Olsen's MaSh Acoustic Guitar also uses Steinberger tuners in the body but lines them across rather than "stack" them like Romano's design.
Garncarz Fanned Fret Bass moves the headstock to the back of the bass.
Guitar Building Books and Headless Guitars
If you're looking for a book on building guitars with headless guitar coverage, look no further than Building Electric Guitars by Martin Koch – also available as an ebook in PDF format.