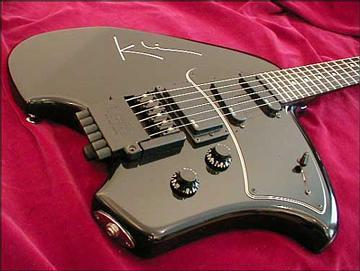 While waiting to start my Klein based electric guitar build, I started to think about the possibility of an "original design" down the road. While far from exhaustive, my study of the Klein guitar template and my reading about ergonomics has led me to consider the following as critical elements in an ergonomic design:
1. A proper neck angle in the sitting position – One of the first things that you come across in classical guitar position is that the neck is angled up which helps to free the left hand and reduces the degree of wrist flexion necessary for fretting. The Klein, due to its design, comfortably sits with its neck at an appropriate upward angle with little effort by the guitarist. Two key factors are the design of its lower bout and the offset bottom of the guitar which tucks itself against the right thigh.
2. Adequate right arm support – In order to reduce stress in the shoulder area, which in turn propagates throughout the arm, the right arm needs support. The Klein, with its extended bout, does an excellent job of this.
3. Lightweight design – Weight is always a factor. It contributes to stress throughout the body and is of even greater issue when standing. The Klein guitar while not especially heavy is not especially light either although this can be improved in a few ways. One way is to make a thinner body. In my case, I'll be working with a body blank that is .5″ thinner than the standard body blank. The other way is to use light weight woods. I decided on alder for a few reasons. Besides being appropriate for the single coil sound I like, it is reasonably light, easy to work with, and consistent in weight. Swamp ash, my other choice, is inconsistent in weight – body blanks may vary significantly. I wanted a result that would be easy to recreate.
4. Balanced design – A balanced design requires less effort on the part of the guitarist and less effort means less stress. The Klein guitar achieves this through its design not least of which is the use of a headless design. Rather than use a conventional headstock with its associated weight, the Klein opts for the headless design which moves the weight of the tuners to a more central position down by the body.