In order to draw upon more ideas, I began to look for ergonomic guitars and found a number of interesting examples. These range from slight departures from the norm to completely different approaches.
Here is the Andreas Shark – a good example of a relatively conventional looking guitar that incorporates ergonomic elements. The most obvious is the extended bout that provides the right arm with excellent support. In addition, the offset bottom of the guitar likely has a similar effect to the shaping of the Klein in terms of aiding the positioning of the guitar while sitting. Unfortunately, this guitar is no longer in production.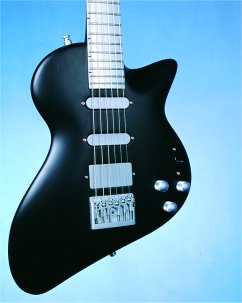 Here is the Bardophone acoustic guitar, a far more radical design I came across last night. This is yet another design that makes use of the shaping of the lower bout to provide a better ergonomic experience. Note how it effortlessly places the neck at an angle. In addition, the design eliminates the need for a foot stool in order to raise the guitar to an appropriate height. This is significant because raising the foot results in twisting to the spine – not an ideal position.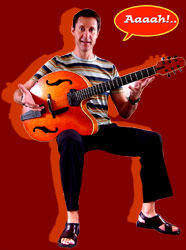 This is an example of a design by Black Machine. The design's primary nod to ergonomics is the use of a super thin body design. This has two effects. First, it lowers weight. Conventional bodies are around 1.75″ thick while the Black Machine guitars are a mere 1.1″ thick! Second, it brings the hands closer to the body reducing the outward extension of the arm from the shoulder joint. This places the shoulder in a more neutral position.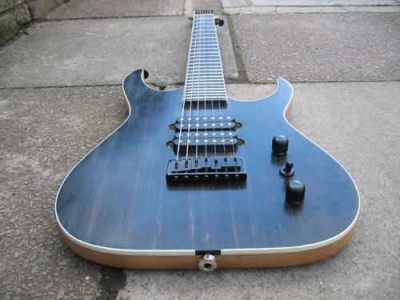 UPDATE 03.18.2006 The Kramer Delta Wing electric guitar is a fairly recent design. Its ergonomic features revolve around two particular elements – good support for the picking arm and its detachable leg rest. The leg rest is of particular interest because it has the potential for additional freedom in the aesthetics of the body while giving the designer a means of still providing good placement and positioning.
Here is Koll Guitar Company's Custom RE 7/6 – a headless archtop. As noted on the Koll page, the guitar was influenced by the experiences of its customer who had played a Klein and loved the way the Klein's neck angle and the way it sat on his leg. Notice the lower bout – it is essentially the shape of the Klein transplanted onto this design.