Guitar Building Resources
Resources to help you in building your own guitar, bass or other stringed instrument.
If you prefer your guitar building book in electronic format, then Martin Koch's work is for you.
Highly recommended book on guitar building with content for the headless guitar maker.
A comprehensive text, the book is a step by step guide to both steel string and classical guitar construction.
Wood Identification and Use is an essential reference handbook on the nature of wood – including working properties, seasoning, figuring and wood toxicity. Does it surprise you that wood might be toxic? Alder, one of the most commonly used guitar body woods, can cause dermatitis, rhinitis, and bronchial problems in dust form. Mahogany, the other […]
Woodworking with the Router by Bill Hylton is the one router book the aspiring guitar maker should have on the reference shelf. You're going to spend a great deal of time around wood routers – incredible tools for shaping the guitar body, routing out pickup and control cavities, cutting out truss rod channels etc. And […]
If guitar building is in your future, Make Your Own Electric Guitar by Melvyn Hiscock is one of the very best books on the subject. Hiscock tackles all the important aspects of guitar construction – design, building the guitar neck and body, wiring pickups and controls, basic finishing, wood choices and tools – through black […]
If you're looking for guitar parts for your existing guitar or that next guitar project, take a look at Guitar Parts Central and their selection of guitar and bass parts include bridges, hardware, inlays, pickups, truss rods, tuners, nuts, pickguards, and luthier supplies. While you're there, you'll also want to see their inverted pin router […]
Bill Foley's Build Your Own Electric Guitar: Custom Guitar Assembly Made Easy is written primarily for the aspiring guitar maker interested in assembling a custom guitar from parts or from a guitar kit (such as those available from Saga). With a straightforward approach, Build Your Own Electric Guitar does an excellent job of explaining topics […]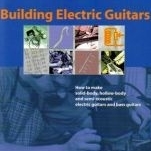 Get started building guitars with these 10 key resources covering everything you'll need to know and then some.
One of the challenges in being new to guitar building is developing an understanding of basic woodworking and finishing techniques. While guitar building books will tell you what tool to use, they typically don't tell you how to use it. If you don't have that knowledge or understanding you're out of luck. Being a newcomer […]