Here's yet another beautiful electric guitar from builder Chris Forshage. Being built for Mike Friedman, it includes a ported bout and a lovely redwood top.
Mike on his search for the right instrument:
I wanted a guitar like this for some time but did not know where to get one or if anyone would make it. The Klein seemed like a good choice and a number of players whom I admired played them but I have been playing amplified, small bodied acoustics and I wanted a hollow or semi hollow guitar. So to make a long story even longer.. web searches led me to your blog and it was here I learned of Forshage. Great but where to test drive one? I e-mailed Joe Giglio without so much as a common acquaintance or letter of introduction and he most graciously invited me to play his. I cannot relate how much of a kindness he showed to me and my son when we visited him; he is a gentleman and a hell of a player.
And so, Mike ordered himself a Forshage ergo electric guitar which is in its final stages of construction.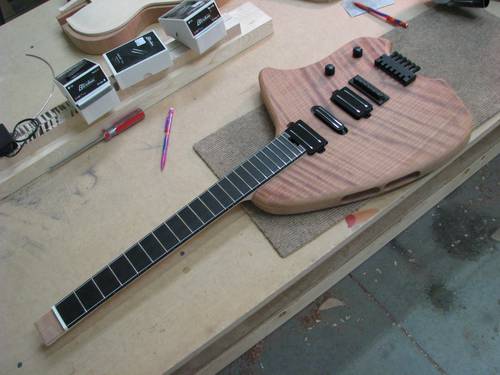 Guitar Specs:
Redwood top and mahogany back guitar body
H-S-H Barden pickups with Duo Tone humbuckers
25″ scale maple neck with ebony fretboard
ABM headless bridge system
No Sound Holes?
Chris custom builds his guitars and this instrument is no exception. Mike came up with the idea of porting the upper bout rather than go with the traditional sound holes on the front.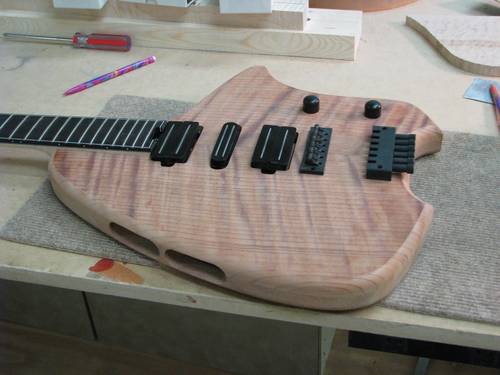 Mike on porting the upper bout:
Instead, I thought that instead of a sound hole, why not port the upper bout; I saw something similar on Adrian Legg's guitar. I noticed some time ago on an acoustic I had with a preamp in the bout that it sounded better to me when the hatch was opened. Some other makers do this too.
Wrap Up
Mike's very excited about his redwood topped electric guitar and we can look forward to further updates once the instrument is completed. Thanks for sharing Mike!