Over at Unfretted, things are done differently. It's home to a number of guitarists into experimental music. It's also home to a number of unique guitars and this fretless baritone electric guitar is no exception.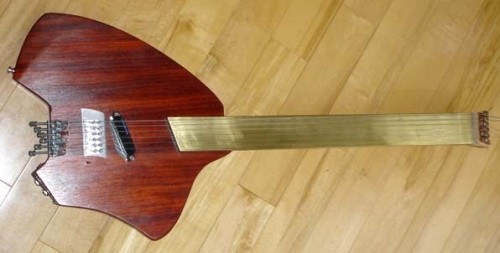 Ergonomics
The most obvious ergo element is its Klein inspired design – the Klein electric guitar being the "gold" standard by which we tend to judge ergo guitars. This particular take on the Klein form has a more angular aesthetic which I personally like.
Not as obvious is that at a mere 27mm thick, this fretless guitar is far thinner than any conventional instrument. According to DIY guitar builder Glenn, he was inspired by the thin guitar approach after finding a link to Black Machine on Building the Ergonomic Guitar. For those unfamiliar with Black Machine, they are a small builder out of England which features super thin 6, 7 and 8 string guitars.
Padauk Guitar Body Meets Bamboo Neck
The super thin guitar body is minimally carved, made of padauk and finished with Tung oil. It eschews volume and tone knobs and only has a small cavity for its two output jacks – one for its Fender Blue Lace Sensor pickup and another for its piezo film pickup.
And then there's the 28″ scale neck made from vertical grain compressed bamboo from Teragren. According to Glenn the resulting neck is "12% harder than maple, dead flat, resistant to humidity, doesn't twist or bend, and is very easy to work with. I love it."
To this already stiff neck, two solid square steel rods in two slots were epoxied in place.
More…
Glenn also came up with his own headless guitar bridge solution and we'll take a closer look in a future installment.
For further details, see Glenn's write up – Building a Fretless Guitar.
Thanks to Glenn for discussing his guitar and for permission to reproduce the images seen above. Thanks also go to Brad of 3 Pups Music for pointing out this unique instrument.