Archtop guitar meets modern features in this unique multi-scale instrument by Koll Guitars. The RE7 combines ergonomics, fanned frets, archtop construction and even its own approach to headless guitar tuning.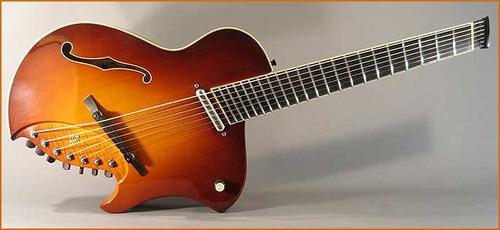 Archtop Meets Klein
According to the Destroy All Guitars (DAG) site, "the original was made for Ron Eschete. He had played a Klein electric owned by one of his students. He loved the neck angle and how it sat on his leg. He wanted Saul Koll to make him something like it, only in a 7 string. At this time he was playing large traditional arch tops. While designing this guitar for him, Koll borrowed from each."
Fanned Fretboard
The RE7's ebony fretboard spans a scale length of 24.635″ on the treble side to a 26″ length on the bass side and incorporates a very subtle compound radius.
Guitar Construction
Despite its unusual appearance, the guitar is built using traditional arch top construction including a sitka top, carved maple back, hand bent sides, mahogany blocks.
DAG points out that while it's built as an electric guitar, the guitar still has excellent acoustics due to its archtop construction.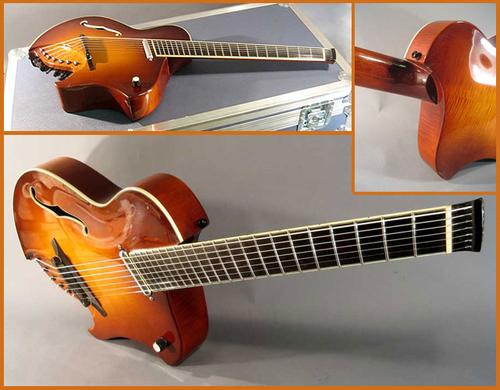 Headless Guitar System
Because an off the shelf headless bridge system wouldn't work with the instrument's archtop nature, the RE7F uses an archtop bridge combined with conventional locking Sperzel tuning keys.
To find out more on the Koll Guitars RE7F, visit its page on Destroy All Guitars.
Thanks to Destroy All Guitars and Cliff Cultreri for information on the instrument as well as permission to use the photos seen above.