Finding headless guitar parts can be a challenge but fortunately, machinist Jon Bondy is making fixed bridge replacements for the headless Steinberger Trans-Trem, S-Trem, and R-Trem bridges.
Bondy's headless bridge works without modification to the guitar body or its bridge cavity and weighs about 0.75 pounds. Its construction breaks down as follows:
Tuning knobs and the associated threaded rods are stainless steel purchased parts.
Saddles are steel.
Remaining parts are aluminum.
The Trans Trem, on the other hand, weighs roughly 1.3 pounds so the Bondy bridge also presents an opportunity for significant weight savings.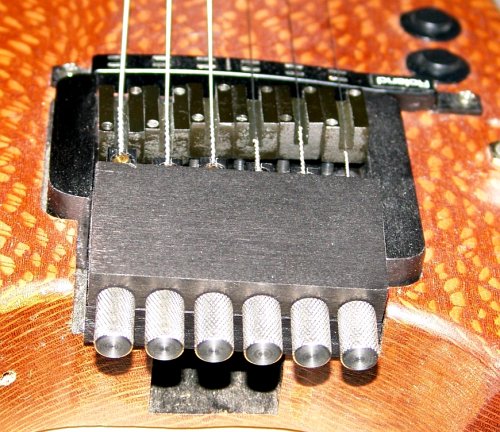 Jon was driven to build his own Steinberger compatible fixed bridge replacements by several factors. Jon had this to say:
The impetus for the current bridge project came about as the street price of the Trans Trems (TTs) began to rise, and people began to remove them from their guitars, to sell. They wanted a way to keep the original guitars as functioning instruments, but fixed bridges were not available. Also, quite a few people never used the trem features at all, and wanted a more stable and simpler bridge.
Jon ended up designing a bridge but then found outsourcing in quantities of 10 or so cost-prohibitive. Instead, he took it upon himself to make them in his home shop.
The bridges have been well received with all of them purchased or spoken for and a second run of 11 targeted for late January 2008 availability. One customer has purchased four of them – "one for his GL, one for his Klein, and two for custom guitars to be built by Rick Canton."
Making these bridges is an involved process::
Some of the parts (tuning slugs and saddles) are very small parts that require a lot of care, and there are a lot of them: I usually do them in batches of 100, and it takes days of very boring and repetitive manual operations. The other is that all of the parts require surface treatment, so that everything is a uniform black, and this step requires a minimum number of parts, and takes over a week at an external vendor.
Price for the six-string fixed bridge is $350. To find out more, see the Bondy headless bridge page.
There's also a 12 string bridge in the works which we'll cover as details become available.
Many thanks to Jon Bondy for permission to reproduce the images above as well as his generosity in sharing his headless bridge with BTEG readers.