Rick Toone is at it again showing significant progress on the Orchid Bass guitar we last looked at it in Toone Guitars' Orchid Bass.
UPDATE: Check out the demo – Monster Meets the Orchid Bass
Ergonomic Guitar Features
Thoughtful design and consideration for ergonomic factors reveal themselves in a number of ways but none more clearly than when considering the Orchid bass in sitting position: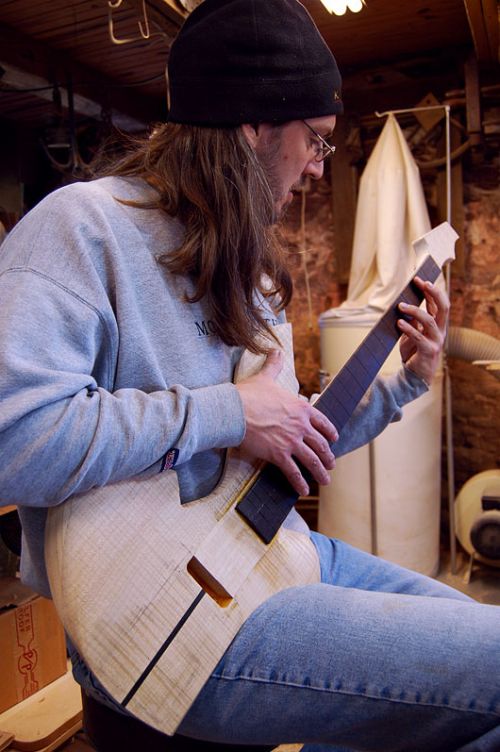 The guitarist sits relaxed but upright reducing stress on the torso and particularly the upper back. The guitar neck sits at a 45 degree angle because of the bass design and not in spite of it. And, the bass sits in playing position without the need for a footstool. Why is this important? Because raising the foot puts stress on the lower back and can lead to pain and musculoskeletal disorder (MSD).
And if you recall, this bass is being built for a woman bassist so Rick has accommodated a woman's body by sweeping the body away from a woman's chest and then sweeping it back out to still provide excellent support for the picking arm.
Finally, the bass' back is contoured to fit ribs and hip.
The Trapezoidal Neck
But the most unusual feature on Rick's bass guitar is the radical trapezoidal neck he's incorporated. It does away with the round contours of a conventional neck profile replacing them with this:
Rick was looking for ways to improve fretting hand form, increase the fingers' mechanical advantage and relieve stress on the wrist by reducing wrist flexion. And so he has created two distinct sets of thumb rests – one for the classical grip followed by a pinch or rock grip – seen in the following pictures: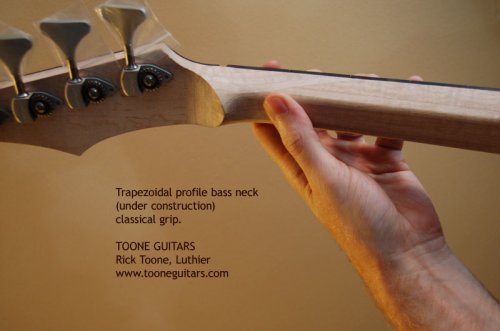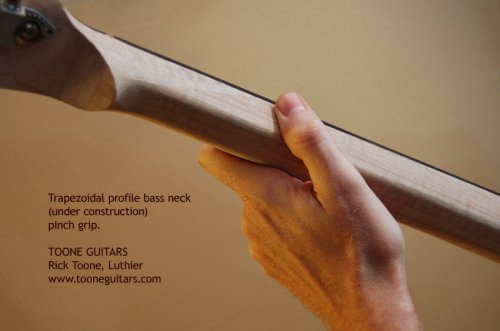 Fortunately, Rick isn't the kind of luthier afraid to try new things and I'm looking forward to reading about his findings with this unusual neck design. For now, you can read more about the radical neck profile in Rick's article Trapezoidal Neck Profile.