Luthier Rick Toone recently made public his Orchid bass guitar – an exciting new project I'll be watching closely.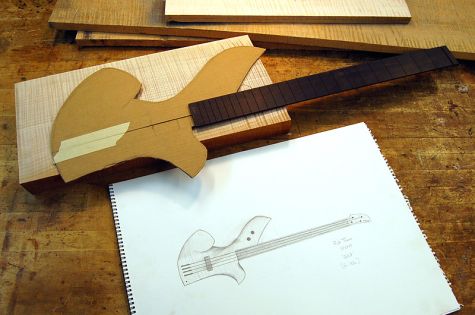 The customer is a woman bassist who, not surprisingly, finds the typical bass uncomfortable and unwieldy. As Rick states "Halie's…what…5'4″ 120lbs, or so? A full-sized bass to her is like wrestling with a surfboard."
However, this is not a scaled down bass nor a "girl guitar". Instead, the Orchid bass maintains the standard 34″ scale while solving the ergonomic nightmare that many bass guitars represent – excessive weight and bulk combined with poor balance. These are challenges any bass player, male or female, must confront and Rick offers an alternative to instruments like the Fender P-Bass – seen in this composite view with the Orchid:
The following are some of the Orchid bass guitar's features as noted in Rick's article, Orchid Explained:
Controls in the upper horn – Volume and tone controls are commonly located under the strings where they end up in the way of the strumming hand. The need to perform volume swells is typically given as a reason for placing them here but as Rick points out, most guitarists use pedals for this. Control location was something I struggled with when planning my first guitar build and I think Rick is on to something by moving them onto the horn. I suspect folks will copy this idea once they realize its wisdom.
Balance – When I first read about the new design, I was curious about the large upper horn or lobe. According to Rick, it improves the instrument's balance and results in the bass being located in a more centered position on the player.
Sitting position – From a standing position to a sitting position, the Orchid "bass maintains alignment with the player's body. The player's thigh holds the weight, instead of the shoulder strap."
Reduced weight – The design makes it possible to remove a great deal of weight while maintaining its balance. Rick can even build it as a semi-hollow bass and retain its balance.
Finally, did I mention Rick is also making a guitar version of this bass design?