Guitar picks, despite varying in size, thickness and material, typically share one common trait – they're flat and thus lack an adequate grip surface. Sweaty fingers and/or heated play can lead to trouble holding the guitar pick as it shifts position or ends up being dropped. In response, the guitar player may end up squeezing the plectrum harder thus creating tension in the hand, arm and shoulder. As a result, picking accuracy and speed can suffer and this extra tension can contribute to Repetitive Stress Injury (RSI).

Big Rock Engineering thinks there's a better way – a guitar pick with a built in grip as seen below. I had the opportunity to try two variants over the course of several months – the one piece guitar pick called the F-1 which integrates a concave grip into the design and the X-1 which is actually a grip kit that let's you add the concave grip surface to a conventional plectrum.
Observations
To prove the concept to myself, I played with the F-1 pick almost exclusively for several months and the results were very positive. Initially, the picks felt different but I quickly got past that. After a few minutes, I found that I could relax my grip and not worry about the pick sliding around in my fingers. I quickly realized that I could spend less time thinking about what my fingers were doing to retain a conventional guitar pick and focus more on actually playing.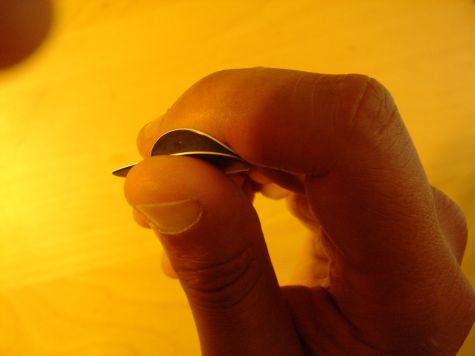 I also find that my entire arm is more relaxed now. While tension may be focused in a particular area it has an impact on other parts of the body as well. Thus by relaxing my hand, my forearm and shoulder are also more relaxed. By reducing tension, a guitarist should find that their picking becomes more fluid, more accurate and potentially faster.
I also tried the X-1 grip surface (seen in the illustration below) on a couple of conventional picks and liked the results. These install easily with double sided tape that's included with them. While the F-1 pick's grip surface is designed to contact the index finger, the X-1 grip surface can be used for the index finger, the thumb or both (if you place one on either side of the pick). It's an excellent solution for guitarists committed to a particular brand of pick who still want the benefits of the grip surface.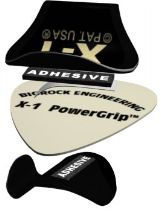 One suggestion – don't install the index finger grip straight up and down on the pick. Hold your hand in a relaxed picking position and note the slight bend in the index finger joint. To accommodate this bend, install the X-1 at a slight angle. BTW, the F-1 pick's grip already accounts for this and is molded in at a slight angle.
And did I mention these guitar picks seem to wear like iron? I spoke to Big Rock Engineering's Allan Chance about this and he thinks this has largely to do with the light touch these picks encourage.
Final Thoughts
Big Rock's guitar pick solutions provide the best grip out there and the F-1 guitar pick is now my favorite pick. I find myself turning to it over my prior favorite – the Dunlop Nylon Jazz III Guitar Pick. When I do use the Dunlop's, I find my picking hand much more relaxed so the Big Rock solution also has potential as a training tool in teaching your hand to relax.
While a bit pricier than the average guitar pick, the difference in cost is insignificant given the benefits to the guitar player from reduced tension and the opportunity to play more fluidly with less risk of RSI. Consider how much we spend on instruments, amplifiers and other guitar accessories then go try these out for yourself. They're worth it.