Luthier Charles Fox builds gorgeous acoustic guitars with top notch materials and craftsmanship. That much anyone can gather from perusing his main site – Charles Fox Guitars. But did you know he has a separate site dedicated to his ergonomic acoustic guitar line?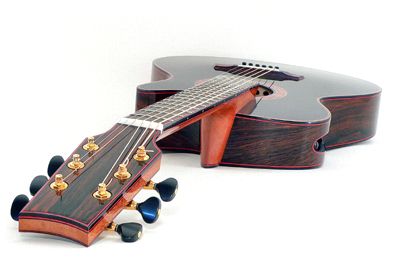 Over at Ergo Fine Guitars, you can indulge not only in the beauty of his guitars but appreciate the ergonomic refinements he has included in his Ergo line. Among these are the following:
Wedge Design – Seen before in Linda Manzer's Wedge Acoustic Guitar, the wedge design brings the elbow closer to the body reducing stress and strain on the shoulder joint. This is a great benefit to those who suffer from bursitis, for example.
Elevated Fretboard – The elevated fretboard improves access to the higher frets.
Compound Fingerboard Radius – Beginning at 10″ at the nut and ending at 24″ high on the neck, it lends itself to easy chording low on the neck and easier single note runs high up.
I recently asked Charles Fox what prompted him to become involved in ergonomic guitar design and this is what he had to say:
Many reasons for addressing the ergonomics of the instrument, but for me the most compelling is to further optimize playability. The same features that allow players to avoid carpal tunnel syndrome and other such physical issues also extend the limitations of the instrument, allowing musicians to play better than they had imagined themselves to be capable of.
While not the radical guitar design seen in the acoustic-electric Bardophone guitar, the Ergo line is a fine addition to the gallery of designs that take ergonomics seriously.