Any guitar player suffering from musculoskeletal ailments such as back pain or Repetitive Strain Injury (RSI) or a guitarist trying to practice prevention should consider the weight of his or her guitar. Whether it's a production guitar or a custom guitar, a guitar maker or luthier can effectively build a light weight guitar using a number of approaches.
A hollowbody or chambered electric guitar is one approach. The basic process involves making a guitar body in two parts – a back section that is chambered with a second section that goes over it and forms the top.
Chambering comes in two flavors. The first involves large chambers hidden underneath the top. This approach to reducing guitar weight is very effective and results in a guitar with greater resonance and warmth. Guitar builder Scott French makes use of chambering in guitars that are in the 6 lb range.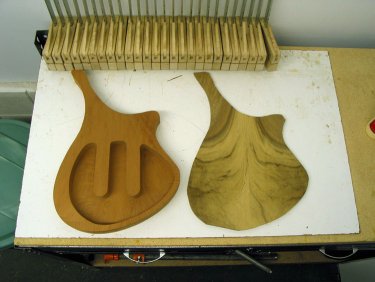 The second involves many smaller chambers. This approach, while still very effective in reducing weight, has a smaller impact on the final tone of the instrument which may actually be preferable depending on the guitarist's requirements for tone. Warmoth, a well established maker of guitar bodies and necks, has this as an option.
Building electric guitars from less dense woods such as alder, swamp ash, basswood, spruce and even pine is yet another approach.
Another effective approach is removing material from non-critical areas of the guitar body. Elements such as monkey grips, large control cavities and bathtub routes can help achieve this goal.
The guitar builder can also start with a thinner body. Common thicknesses for guitar body blanks are 1.75″ but that doesn't mean a guitar can't be thinner – keeping in mind that tremolos are a limiting factor. For example, my guitar build began with a 1.5″ thick alder blank. Black Machine Guitars builds guitars that are a mere 1.1″ thick!
All in all, we see that a guitarist need not suffer with an instrument that's so heavy as to cause health issues. Options abound and the one's listed here are relatively straightforward to incorporate if you build your own electric guitar.