The electric guitar build is proceeding well – the forearm cut and belly contour are complete. In addition, the angled lower strap button area is done.
For the belly contour I used a combination of an 80 grit sanding disc on an electric drill to take away the bulk of the material followed by hand sanding to smooth it out and round over the edges. A number of builders use an angle grinder to achieve the same effect. However, not being experienced with one, I opted for a slower approach.
For the forearm cut, I clamped a straight piece of wood at an appropriate spot so that I wouldn't sand too far into the face of the guitar. Then I used the sanding disc and hand sanding to complete the task.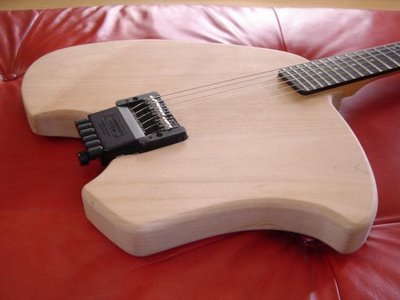 Note that finish sanding remains.
More on my first guitar project:
Guitar Build – Neck and Steinberger Bridge in Place for First Test!
Guitar Build – Neck Pocket Complete
Guitar Build – Bridge and Neck Have Arrived
Guitar Build – Guitar Body Flush Trimmed and Edges Rounded Over
Cutting Out The Ergonomic Guitar
Making The Ergonomic Guitar Template
Project Guitar Topic Thread: First Project Attempt – Ergonomic Guitar